Christina Alexandra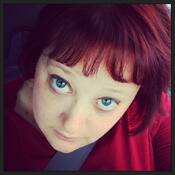 Christina Alexandra is a part-time romance writer from Southern California, where she works full-time as an emergency services operator for a large police department.
Forever on the lookout for a new adventure, Christina has a varied background in multiple fields including working in both a veterinary clinic and a doctor's office, as well as training as an Emergency Medical Technician. She worked at a local coroner's office for several years where she assisted investigators with their cases, performed autopsies, and earned her state certification as a death investigator. She has taught high school music and law enforcement tactics and procedures to teenagers in the local Explorer program. She even raised a puppy to be a guide dog for the blind. When he decided guide work wasn't for him, he was career changed to Urban Search and Rescue. Now he gets to put his energy and sniffing abilities to work finding people who are lost or trapped after disaster strikes. She loves to talk about him, so feel free to ask.
Always an avid reader and storyteller, Christina dabbled in poetry, essays and one disastrous attempt at science-fiction (it turns out you need to have a grasp of science, not just fiction). Resigned to a non-creative life in the daily grind of 9 to 5, it wasn't until a friend sent a link to a local romance writers conference that she turned her focus to writing. That weekend led to a journey that has been one of the most rewarding and creative experiences of her life.
A history lover in school, it was no surprise the stories that had the greatest impact and carried her favorite story lines were historical romance. It didn't take long for Christina to find her niche writing stories set in Georgian and Regency England, where she uses all her experiences as inspiration to craft true-to-life characters and emotional stories with a unique twist on modern issues. She is fond of saying "I learned more about history writing novels than I ever learned in school."
When not researching, writing or working, Christina spends her spare time travelling, cooking—oftentimes with a historical flair—and staying active on social media. A trivia junkie, she is constantly on the lookout for random facts in the hopes that it will help in her never ending quest for a spot on "Jeopardy!"
Log In to see more information about Christina Alexandra
Log in or register now!
Series
Books:
Once Upon A Twelfth Night, August 2020
e-Book