Christopher Hinz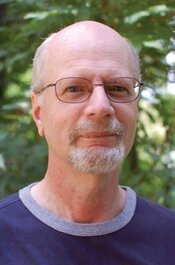 CHRISTOPHER HINZ is an author of science fiction thrillers – novels, comic books, screenplays and more.
Born in 1951 in Reading, PA, USA, his early passion for all things SF led to the writing of his first "novel" in elementary school. A four-page epic, it featured a giant monster brought back from Mars who escapes and climbs the tallest building in Chicago, only to be blasted from that perch with a nuclear cannon. The inevitable fallout, along with other youthful digressions, steered Hinz away from science fiction writing – and Chicago – for many years.
His first mature work, LIEGE-KILLER, was originally published in 1987 by St. Martin's Press. ANACHRONISMS, ASH OCK and THE PARATWA soon followed. The latter two novels, together with LIEGE-KILLER, form "The Paratwa Saga."
A subsequent foray into comic books led to a number of publications, including creator-owned GEMINI BLOOD (with artist Tommy Lee Edwards) and DEAD CORPS (with artist Steve Pugh) for DC Comics, and BLADE for Marvel Comics, also with Pugh. An evolution into screenwriting resulted in the sale of BINARY, a script based on LIEGE-KILLER.
SPARTAN X was published in 2012 and BINARY STORM, a prequel novel to "The Paratwa Saga," in 2016.
In 2019, the novel STARSHIP ALCHEMON, the novelette DUCHAMP VERSUS EINSTEIN (co-written with Etan Ilfeld) and LIEGE-KILLER The Graphic Novel were published.
In addition to other SF projects, he has worked a variety of Earth-based jobs, including picture framer, turret-lathe operator, TV technical director and newspaper staff writer. He has played in rock bands, modeled dioramas and designed and marketed an auto racing board game. He currently creates new tales of interstellar wonder and woe from the semi-seclusion of a wooded realm in Berks County, Pennsylvania.
Log In to see more information about Christopher Hinz
Log in or register now!
Series
Books:
Ash Ock, July 2021
Trade Size / e-Book
The Paratwa, July 2021
Trade Size / e-Book
Liege Killer, July 2021
Trade Size / e-Book
Refraction, November 2020
Trade Size / e-Book
Duchamp Versus Einstein, October 2019
Paperback