E. P. Isaacs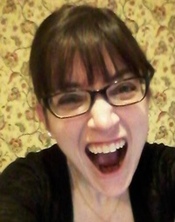 E.P. Isaacs is the writer behind the TALES OF THE ROBOT NIKA and the related books set to appear in the future. She first met Nika Thought-werk while listening to a poem about a hapless mail pilot. The poem was presented at the Der Hut Des Jäger Poetry Slam in March of 2011. The pilot in the poem was, of course, Nika Thought-werk. Over the next couple of months, the two became friends, and by the Summer of 2011, E.P. Isaacs had begun writing down the stories of her life that the little clockwork girl would share with her late at night as the two worked toward Nika's goal of expanding her clockwork postal system.
E.P. Isaacs was literary editor to the now-defunct Steampunk Tintype and Telegraph (last two issues here – ask Nika for all fourteen issues in Second Life. She is quite proud of them) and a frequent contributor to the bimonthly online writer's group Tall Tales and Outright Lies. Her first book, DO CLOCKWORKS DREAM OF GEAR-TOOTHED SHEEP, was published in August 2015. Now, she is busily researching and plotting her second book, which she hopes will be in print in early 2016.
In her free time these days, Ms. Isaacs writes more of Nika's stories down, practices drawing, studies computing, and listens to music alongside Nika. The pair are especially fond of bands such as Punch Brothers and Joy Kills Sorrow, as well as singers such as Abigail Washburn and Sarah Jarosz. Her favorite books include the Mossflower Series, the Chronicles of Narnia, and anything having to do with L. Frank Baum's Oz.
Log In to see more information about E. P. Isaacs
Log in or register now!
Series
Tales of the Robot Nika
Books:
Do Clockworks Dream of Gear-Toothed Sheep?, August 2015
Tales of the Robot Nika #1
Paperback / e-Book