Olivia Folmar Ard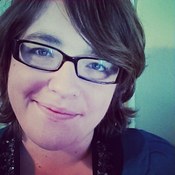 Olivia began writing creatively at eight years old. During middle and high school, she attended several writing conferences and submitted poems and short stories to various writing contests. She finished her first long work of fiction, a novella entitled Heaven's Song, in the tenth grade. Her short story "By Its Cover" placed first in its division in the 2008 District III Alabama Penman Creative Writing Contest. She took a reprieve from writing during her years at the University of Montevallo, where she earned a degree in history in 2012. She finished and published her first novel, The Partition of Africa, in 2014.
Olivia currently lives in central Alabama with her husband, to whom she's been wed since the age of twenty-two, and their cat, Buddy. When she isn't writing, she enjoys watching quality television—The Office (US), Parks & Recreation, 30 Rock, and Friends are her favorites—and cooking without recipes. Along with working full-time at her alma mater and studying English at the graduate level, she is busy working on her next literary adventure.
Log In to see more information about Olivia Folmar Ard
Log in or register now!
Series