Anne Hillerman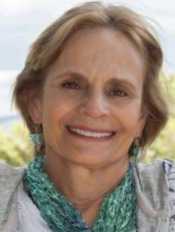 Anne Hillerman is delighted to continue the mystery series her father, the best-selling author Tony Hillerman, created beginning in 1970. Anne's debut novel, Spider Woman's Daughter, is a mystery set in the Southwest, including the Navajo Nation and Santa Fe. The book followed the further adventures of the characters Tony Hillerman made famous: Jim Chee, Joe Leaphorn and Bernadette Manuelito. The novel, released by HarperCollins, received the Spur Award from Western Writers of America for the Best First Novel of 2013.
Her second mystery in the series, Rock with Wings, was released in May, 2015, and quickly became a New York Times best-seller. Set in the beautiful country near Shiprock, New Mexico and in Monument Valley, the book involves two separate mysteries. The detectives work on puzzling cases that involve a missing woman, a mysterious car fire, a movie crew. Lt. Joe Leaphorn's memory gets a workout! Anne also is the author of the award-winning Tony Hillerman's Landscape: On the Road with Chee and Leaphorn and eight other books.
Together with husband/photographer Don Strel, she worked on a project with the University of New Mexico Press---an introduction and new photographs for a re-issue of mystery giant Tony Hillerman's book of non-fiction essays, The Great Taos Bank Robbery. In her introduction, Anne talks about growing up as one of Hillerman's six children. She and Don also collaborated on Gardens of Santa Fe, which was a finalist for the prestigious Eric Hoffer Award, as well as earning a New Mexico Book Award and first place honors from the National Federation of Press Women and New Mexico Press Women. The duo presents on their books frequently. Tony Hillerman's Landscape had received many awards and was honored as the best photo book of 2010 by the Mountains and Plains Booksellers.
Anne's other books also include: Santa Fe Flavors: Best Restaurants and Recipes (winner of the 2009 New Mexico Book Award), The Insider's Guide to Santa Fe, Children's Guide to Santa Fe, Done in the Sun, and Ride the Wind: USA to Africa.
In more than twenty years as a journalist, she worked as editorial page editor for the Albuquerque Journal North and the Santa Fe New Mexican, and as an arts editor for both papers.
Since 2001, Anne has been a Northern New Mexico food critic for the Albuquerque Journal, New Mexico's largest newspaper.That job takes her to Four Star food palaces and tasty little dives, up to Espanola and Taos and out Cerrillos and Madrid way. Her reviews have won first place honors from the National Federation of Press Women. Her book Santa Fe Flavors grew from this experience. Anne is often asked to volunteer to judge food-related events including the Girl Scout Cookie Caper, featuring desserts created from Girl Scout cookies. Now that's a sweet job!
In addition to working on the next novel, Anne is a director of Wordharvest Writers Workshops and the Tony Hillerman Writers Conference both of which she helped to establish in 2001.The Tony Hillerman Writers Conference is held in November in Santa Fe.
Log In to see more information about Anne Hillerman
Log in or register now!
Series
Leaphorn, Chee and Manuelito
Books:
Stargazer, April 2021
Leaphorn, Chee & Manuelito #6
Hardcover / e-Book
The Tale Teller, April 2019
A Leaphorn and Chee Novel #23
Paperback / e-Book
The Tale Teller, April 2019
Leaphorn, Chee & Manuelito #5
Hardcover / e-Book
Cave of Bones, January 2019
Leaphorn, Chee & Manuelito #3
Mass Market Paperback / e-Book (reprint)
Cave of Bones, April 2018
Leaphorn, Chee and Manuelito #4
Hardcover / e-Book
Song of the Lion, October 2017
Leaphorn, Chee and Manuelito #3
Mass Market Paperback / e-Book (reprint)
Song of the Lion, April 2017
Leaphorn, Chee and Manuelito #3
Hardcover / e-Book
Rock with Wings, December 2015
Leaphorn, Chee and Manuelito #2
Hardcover / e-Book
Spider Woman's Daughter, October 2013
Leaphorn, Chee and Manuelito #1
Hardcover / e-Book