Heidi Cullinan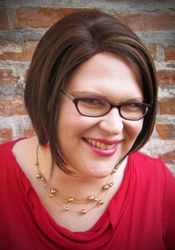 Heidi grew up in love with story. She fell asleep listening to Disney long-playing records and read her Little House On The Prairie books until they fell apart. She ran through the woods inventing stories of witches and fairies and enchanted trees and spent hours beneath the lilac bush imagining the lives of the settlers who had inhabited the homestead log cabin and two-story late 1800s home on her family farm. She created epic storylines for her Barbies (Robin Hood was a firm favorite) until it wasn't satisfying enough to do so any longer (age ten), and then she started writing them down. Her first novel, The Life and Times of Michelle Matthews, was published when she was twelve in the school anthology and took up nearly half of it.
Though Heidi continued to write novels through high school (and still has the Rubbermaid tub full in her bedroom), she stopped in college, deciding it was time to grow up and do something meaningful with her life. When the specifics of that didn't pan out, Heidi ended up in grad school to become a teacher, and through one of the courses rediscovered her love of romance novels. She began to write again on the side, continued to do so while she taught seventh grade language arts and reading, and when she quit teaching to have her daughter, she took up writing with more seriousness, both as a stress relief and as a potential means of bringing in money.
Log In to see more information about Heidi Cullinan
Log in or register now!
Series
Love Lessons | Minnesota Christmas | Clockwork Love
Books:
The Bookseller's Boyfriend, January 2021
Copper Point: Main Street #1
e-Book
Family Man, September 2017
e-Book
Clockwork Heart, February 2016
Clockwork Love #1
e-Book
Winter Wonderland, November 2015
Minnesota Christmas #3
e-Book
Lonely Hearts, August 2015
Love Lessons #3
e-Book
Carry the Ocean, April 2015
The Roosevelt Book 1
e-Book
Sleigh Ride, November 2014
Minnesota Christmas #2
e-Book
Tough Love, April 2014
Special Delivery
e-Book
Double Blind, March 2014
Special Delivery
e-Book
Special Delivery, February 2014
e-Book
Let It Snow, December 2013
Minnesota Christmas #1
e-Book
Love Lessons, October 2013
Hardcover / e-Book
Second Hand, September 2012
Tucker Springs
Paperback / e-Book