Catherine Bybee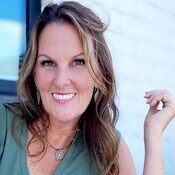 Contests
Catherine Bybee's $25 Amazon Gift Card giveaway to celebrate A THIN DISGUISE release!

Social Media:
INSTAGRAM
AMAZON
BOOKBUB
FACEBOOK
TWITTER
GOODREADS

E-mail me when Catherine Bybee releases a new book.
Blogging at Fresh Fiction
Catherine Bybee | Exclusive Excerpt: CHANGING THE RULES
March 19, 2021
The announcer started the final countdown, and a buzz went up among the hovering guests. Claire smiled at Read More...
Catherine Bybee | Author-Reader Match: MY WAY TO YOU
March 13, 2020
Instead of trying to find your perfect match in a dating app, we bring you the "Author-ReaderMatch" where we introduce Read More...
Catherine Bybee | Excerpt: Say It Again
September 20, 2019
AJ gave her a head start and slowly made his way behind her. A small amount of traffic offered him some disguise Read More...
Catherine Bybee | Exclusive Excerpt: FAKING FOREVER
March 12, 2019
Shannon moved up the beach by half a mile and settled into one of only two second-story suites the boutique hotel Read More...
Exclusive Excerpt: Half Empty by Catherine Bybee
August 1, 2018
"You're chasing me," Trina said as she answered the phone. The thing rang at nearly the same time it had the night Read More...
Exclusive Excerpt: NOT QUITE CRAZY by Catherine Bybee
March 14, 2018
Owen laughed every time he looked at her. The swelling had reached its height by Sunday morning, and by the afternoon the red and Read More...
Exclusive Excerpt: Fool Me Once
September 20, 2017
Ready for a sneak peek? Fool Me Once by Catherine Bybee "You're American, right?" The married and Read More...
Exclusive Excerpt: MAKING IT RIGHT by Catherine Bybee
May 9, 2017
At Marly's, Jo hit pay dirt. Loud and smoky despite the laws suggesting people not smoke indoors, and littered with hard Read More...
Catherine Bybee | Top 5 Best Things About Returning Home
January 31, 2017
After being voted Most Likely To Never Leave River Bend, Zoe Brown from STAYING FOR GOOD Read More...
Catherine Bybee | From the Desk of Hunter Blackwell
August 19, 2015
From the desk of Hunter Blackwell: When hunting for a wife, it helps to have many zeros in your bank account. I suppose Read More...
Catherine is a #1 Wall Street Journal, Amazon, and Indie Reader bestselling author. In addition, her books have also graced The New York Times and USA Today bestsellers lists. In total, she has written thirty-six beloved books that have collectively sold more than 10 million copies and have been translated into more than twenty languages.
Raised in Washington State, Bybee moved to Southern California in the hope of becoming a movie star. After growing bored with waiting tables, she returned to school and became a registered nurse, spending most of her career in urban emergency rooms.
Log In to see more information about Catherine Bybee
Log in or register now!
Series
Weekday Brides | Most Likely To series | Not Quite | First Wives | Creek Canyon | Richter
Books:
An Unexpected Distraction, December 2021
Richter #3
Paperback / e-Book
A Thin Disguise, July 2021
Richter #2
Trade Size / e-Book / audiobook
Changing the Rules, April 2021
Richter #1
Trade Size / e-Book
Everything Changes, November 2020
Creek Canyon #3
Trade Size / e-Book
Home to Me, July 2020
Creek Canyon #2
Trade Size / e-Book
My Way To You, March 2020
Creek Canyon #1
Trade Size / e-Book
Say It Again, October 2019
First Wives #5
Trade Size / e-Book
Faking Forever, March 2019
First Wives #4
Trade Size / e-Book
Chasing Shadows, November 2018
First Wives #3
Trade Size / e-Book
Half Empty, August 2018
First Wives #2
Trade Size / e-Book
Not Quite Crazy, March 2018
Not Quite Series #6
Trade Size / e-Book
Fool Me Once, September 2017
First Wives
Trade Size / e-Book
Making It Right, May 2017
Trade Size / e-Book
Staying for Good, February 2017
Most Likely To #2
Paperback / e-Book
Not Quite Perfect, September 2016
Not Quite #5
Paperback / e-Book
Doing It Over, April 2016
Most Likely To Series #1
Paperback / e-Book
Treasured by Thursday, August 2015
Weekday Brides #7
Paperback / e-Book
Seduced By Sunday, April 2015
Weekday Brides #6
Paperback / e-Book
Not Quite Forever, November 2014
Not Quite
Paperback / e-Book
Taken By Tuesday, August 2014
Weekday Brides #5
Paperback / e-Book
Single By Saturday, January 2014
Weekday Brides #4
Paperback / e-Book
Fianc? by Friday, August 2013
Weekday Brides #3
Paperback / e-Book
Not Quite Mine, May 2013
Not Quite
Paperback / e-Book
Married by Monday, March 2013
Weekday Brides #2
Paperback / e-Book
Wife by Wednesday, February 2013
Weekday Brides #1
Paperback / e-Book