Helen Lacey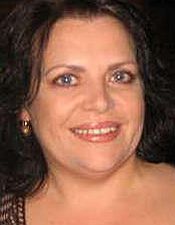 Blogging at Fresh Fiction
Holding Out for a Hero - Cowboy or CEO?
April 3, 2018
I've been writing for a long time now and have been published with Harlequin/Mills & Boon since 2012. I write contemporary romance - and Read More...
Helen Lacey | A Starting Point
September 12, 2014
I was at my day job the other week and got talking to someone about dreams. And goals. He asked me what I did outside Read More...
Helen Lacey | Date With Destiny
August 4, 2013
One of the most rewarding things about being an author is getting feedback from readers saying how much they loved your book.  I recently received Read More...
Helen Lacey | How to avoid the Slush Pile
January 17, 2012
I know the slush pile. I've been in it. Many times. About eighteen times in fact.  In the old days it was often the Read More...
Helen Lacey grew up reading Black Beauty, Anne of Green Gables and Little House on The Prairie. These childhood classics inspired her to write her first book when she was seven years old, a story about a girl and her horse. Although, it wasn't until the age of eleven when she read her first Mills & Boon, that she knew writing romances was what she wanted to do with her life. Her parents' love of travel meant she saw much of the world in those early years and she feels fortunate to have had a diverse and interesting education over several continents.
She continued to write into her teens and twenties with the dream of one day being a published author. A few years and careers later, including motel operator, florist, strapper, dog washer, and retail manager, she got the call from Harlequin Special Edition. She loves writing about tortured heroes, both cowboys and CEO's, and heroines who finally get the love of the man of their dreams. She now works part time in her sister's bridal shop, where she gets to meet fascinating people, some of whom might one day end up being in one of her books.
From Welsh parents and a large family, she lives on the east coast of Australia in a small seaside town at the southern most point of The Great Barrier Reef, with her wonderfully supportive husband, many horses and three spoiled dogs.
Log In to see more information about Helen Lacey
Log in or register now!
Series
The Men of Mulhany Crossing | Cedar River Cowboys
Books:
The Family She Didn't Expect, September 2021
The Culhanes of Cedar River #6
Paperback / e-Book
The Night That Changed Everything, July 2021
The Culhanes of Cedar River #5
Paperback / e-Book
Her Secret Texas Valentine, January 2019
The Fortunes of Texas: The Lost Fortunes
Paperback / e-Book
The Secret Son's Homecoming, June 2018
The Cedar River Cowboys #7
Paperback / e-Book
The Child Between Them, May 2018
Men Of Mulhany Crossing #2
e-Book
A Kiss, a Dance & a Diamond, April 2018
The Cedar River Cowboys #6
Mass Market Paperback / e-Book
A Fortunes of Texas Christmas, November 2017
The Fortunes of Texas
Paperback / e-Book
Secrets of the A-List, October 2017
Episode 5 of 12
e-Book
The Rancher's Unexpected Family, August 2017
The Cedar River Cowboys #5
e-Book
Married to the Mom-To-Be, April 2017
The Cedar River Cowboys #4
e-Book
The Cowgirl's Forever Family, September 2016
The Cedar River Cowboys #3
e-Book
Lucy and the Lieutenant, June 2016
The Cedar River Cowboys #2
e-Book
Three Reasons to Wed, December 2015
The Cedar River Cowboys
Paperback / e-Book
The CEO'S Baby Surprise, April 2015
Harlequin Special Edition (Book 2398)
Mass Market Paperback / e-Book
Claiming His Brother's Baby, January 2015
Harlequin Special Edition
Mass Market Paperback / e-Book
Once Upon a Bride, August 2014
Paperback / e-Book
The Cattleman's Proposal, November 2013
The Men of Mulhany Crossing #1
e-Book
Date with Destiny, July 2013
Hardcover / e-Book
His-And-Hers Family, December 2012
Mass Market Paperback / e-Book
Marriage Under The Mistletoe, October 2012
Paperback / e-Book
Made For Marriage, January 2012
Family For Keeps?
Paperback / e-Book