Kristina Wright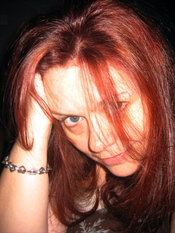 Hi, I'm Kristina Wright, the insomniac writer whose mind is always working, even late into the night…. I'm a full-time writer, as well as a perpetual college student and community college adjunct. I live in Virginia with my husband Jay, my son Patrick (born in December 2009) and our menagerie of pets, including a dog, three cats (my beloved Annabelle died in January 2009), a blue-capped conure, a lineolated parakeet and four zebra finches. Oh, and there are some raccoons I feed occasionally… okay, nightly. They are not pets. Really. Just because I seriously contemplated using the cats' flea and tick medicine on them does not make them pets.
I grew up in south Florida (and the distinction is important only to those of us who know the difference between south and the rest of Florida) and escaped just as quickly as I possibly could. In the almost twenty years I've been married, I have lived in Charleston, South Carolina; Newport, Rhode Island (briefly); and Virginia—twice—courtesy of the Navy (Jay is the sailor, I'm far too resistant to authority).
I completed my M.A. in Humanities in May 2007, but I'm in and out of college, working to complete a certificate in Women's Studies. There is a part of me that longs for a Ph.D., but I'm not sure if I have the discipline necessary to do the time. We'll see. However, I do consider myself an academic of sorts ("independent scholar" is a term that I like) and my interests cover much of the humanities, specifically literature, popular culture and women's studies. I teach a few classes of College Composition and Humanities (Mythology) at the local community college, both on campus and online. My hobbies include reading (obviously); photography; blogging; movies, theater and concerts; cooking; rescuing stray animals; learning new things and traveling as often as my budget allows. I'm a new mom, so I'm also interested in children's literature and toys and childhood development.
Log In to see more information about Kristina Wright
Log in or register now!
Series
Books:
Three of Hearts, March 2015
e-Book
A Princess Bound, May 2014
Paperback
Best Erotic Romance 2014, February 2014
Paperback / e-Book
Bedded Bliss, October 2013
Paperback / e-Book
Best Erotic Romance 2013, February 2013
Paperback / e-Book
Duty And Desire, November 2012
Paperback / e-Book
Lustfully Ever After, May 2012
Paperback / e-Book
Best Erotic Romance, December 2011
Paperback / e-Book
Steamlust, October 2011
Paperback / e-Book
Fairy Tale Lust, July 2010
Paperback / e-Book