Lacy Williams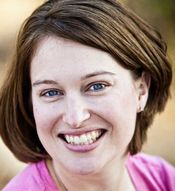 Blogging at Fresh Fiction
Lacy Williams | What Does Your Ideal Hero Look Like?
December 10, 2012
Many authors begin writing each book knowing exactly what their hero looks like. Tall and dark. Scruffy and broad-shouldered. Wears a leather bomber jacket Read More...
Lacy Williams | Thoughts on Single Dads
May 29, 2012
I don't know about you, but I love a good book with a single dad for the hero. What is it about single dads Read More...
Lacy Williams is a wife and mom from Oklahoma. Her debut novel, MARRYING MISS MARSHAL, won ACFW's coveted Genesis award before being published. She promises readers happily-ever-afters guaranteed.
Lacy combines her love of dogs with her passion for literacy by volunteering with her therapy dog Mr. Bingley in a local Kids Reading to Dogs program.
Lacy loves to hear from readers at and she posts short stories and giveaways at her website.
Log In to see more information about Lacy Williams
Log in or register now!
Series
Wyoming Legacy | Heart of Oklahoma | Journey West | Hometown Romance | Sutter's Hollow
Books:
Cowgirl Next Door, August 2020
Sutter's Hollow #3
e-Book
Secondhand Cowboy, July 2020
Sutter's Hollow #2
e-Book
His Small-Town Girl, May 2020
Sutter's Hollow #1
e-Book
Her Cowboy Deputy, October 2015
Wyoming Legacy #7
Paperback / e-Book
Her Convenient Cowboy, June 2015
Wyoming Legacy #6
Paperback / e-Book
Wagon Train Sweetheart, May 2015
Journey West #2
Paperback / e-Book
Secondhand Cowboy, April 2015
Hometown Romance #1
Paperback / e-Book
Cowboy Kisses, January 2015
Heart of Oklahoma
e-Book
A Cowboy for Christmas, December 2014
Wyoming Legacy #5
Paperback / e-Book
Mistletoe Cowboy, December 2014
Heart of Oklahoma #3
e-Book
The Wrangler's Inconvenient Wife, August 2014
Wyoming Legacy #4
Paperback / e-Book
Love Letters from Cowboy, May 2014
Heart of Oklahoma #2
e-Book
Kissed by a Cowboy, February 2014
Heart of Oklahoma #1
e-Book
Return of the Cowboy Doctor, December 2013
Wyoming Legacy #3
Paperback / e-Book
Roping the Wrangler, August 2013
Wyoming Legacy #2
Paperback / e-Book
Counterfeit Cowboy, December 2012
Paperback / e-Book
The Homesteader's Sweetheart, May 2012
Wyoming Legacy #1
Paperback / e-Book
Marrying Miss Marshal, August 2011
Paperback
Heart of Gold, August 2011
e-Book