Gini Koch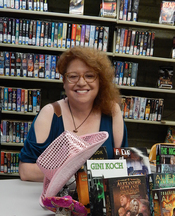 Gini Koch writes the fast, fresh and funny Alien/Katherine "Kitty" Katt series for DAW Books, the Necropolis Enforcement Files series, and the Martian Alliance Chronicles series. Touched by an Alien, Book 1 in the Alien series, was named by Booklist as one of the Top Ten Adult SF/F novels of 2010. Alien in the House, Book 7 in her long-running Alien series, won the RT Book Reviews Reviewer's Choice Award as the Best Futuristic Romance of 2013. Book 14, Alien Nation, released in December 2016, and Book 15, Alien Education, will release in May 2017.
As G.J. Koch she writes the Alexander Outland series and she's made the most of multiple personality disorder by writing under a variety of other pen names as well, including Anita Ensal, Jemma Chase, A.E. Stanton, and J.C. Koch.
Gini also has stories featured in a variety of excellent anthologies, available now and upcoming, writing as Gini Koch, Anita Ensal, Jemma Chase, and J.C. Koch. Writing as A.E. Stanton, she will have an audio release, Natural Born Outlaws: The Legend of Belladonna Part 1, coming from Graphic Audio in 2017.
Gini is an in-demand speaker who panels regularly at San Diego Comic-Con, Phoenix Comicon, and the Tucson Festival of Books, among others. She's also been part of the faculty for the San Diego State University Writers Conference, Jambalaya Con, the Desert Dreams Writers Conference, and the James River Writers Conference, among others.
Prior to becoming a full time author, Gini spent over 25 years in marketing and advertising, first in small- to mid-sized direct marketing firms in Los Angeles, then with IBM, and she was a social media maven before it was cool.
Log In to see more information about Gini Koch
Log in or register now!
Series
Katherine "Kitty" Katt
Books:
Aliens Abroad, December 2017
Katherine
Mass Market Paperback / e-Book
Alien Education, May 2017
Katherine "Kitty" Katt #15
Mass Market Paperback / e-Book
Alien Nation, December 2016
Katherine "Kitty" Katt #14
Mass Market Paperback / e-Book
Camp Alien, May 2016
Katherine "Kitty" Katt #13
Paperback / e-Book
Alt.sherlock.holmes, April 2016
Paperback
Alien in Chief, December 2015
Katherine "Kitty" Katt #12
Paperback / e-Book
Alien Separation, May 2015
Katherine "Kitty" Katt #11
Paperback / e-Book
Universal Alien, December 2014
Katherine "Kitty" Katt #10
Paperback / e-Book
Alien Collective, May 2014
Katherine "Kitty" Katt #9
Paperback / e-Book
Alien Research, December 2013
Katherine "Kitty" Katt #8
Paperback / e-Book
Alien In The House, May 2013
Katherine "Kitty" Katt #7
Paperback / e-Book
Alien vs. Alien, December 2012
Katherine "Kitty" Katt #6
Paperback / e-Book
Alien Diplomacy, April 2012
Katherine "Kitty" Katt #5
Paperback / e-Book
Alien Proliferation, December 2011
Katherine "Kitty" Katt #4
Paperback / e-Book
Alien In The Family, April 2011
Katherine "Kitty" Katt #3
Paperback / e-Book
Alien Tango, December 2010
Katherine "Kitty" Katt #2
Mass Market Paperback / e-Book
Touched By An Alien, April 2010
Katherine "Kitty" Katt #1
Paperback / e-Book