E.J. Copperman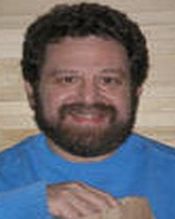 Blogging at Fresh Fiction
E.J. Copperman | What Writers Could Learn from Billy Joel
January 4, 2016
There is a lot to be learned about writing by going to see Billy Joel in concert. Hang on. I'll prove it. My family Read More...
E.J. Copperman | Behind Inspector Specter
December 16, 2014
"Where do you get your ideas?" Writers get this question all the time. It's an honest question asked by readers and in some cases Read More...
E.J. Copperman is not like other people. Well, some other people. A few other people. Let's face it: E.J. Copperman is exactly like other people, except for writing mystery novels. A New Jersey native, E.J. has written for such publications as The New York Times, Entertainment Weekly, American Baby and USA Weekend. Night of the Living Deed is the first E.J. Copperman novel.
E.J., having worked as a newspaper reporter, teacher, magazine editor, and screenwriter, writes stories that combine humor and mystery with just the right amount of spooky supernatural happenings and a large does of Jersey attitude.
The fact is, E.J. Copperman is the pseudonym of a crime fiction writer who likes to specialize in making people laugh while delivering the suspects, clues, red herrings and plot twists that keep the pages turning.
Log In to see more information about E.J. Copperman
Log in or register now!
Series
Haunted Guesthouse | Mysterious Detective | Agent to the Paws
Books:
Bones Behind the Wheel, January 2019
Haunted Guesthouse #10
Hardcover / e-Book
The Hostess With the Ghostess, December 2018
Haunted Guesthouse
Trade Size / e-Book
Bird, Bath, and Beyond, October 2018
Agent to the Paws #2
Hardcover / e-Book
Edited Out, August 2018
Trade Size
The Hostess with the Ghostess, January 2018
Haunted Guesthouse #9
Hardcover / e-Book
Dog Dish of Doom, August 2017
Agent to the Paws
Hardcover / e-Book
Edited Out, May 2017
Mysterious Detective
Hardcover / e-Book
Written Off, April 2017
Trade Size
Spouse on Haunted Hill, December 2016
Haunted Guesthouse #8
Mass Market Paperback / e-Book
The Question Of The Felonious Friend, September 2016
Asperger's Mysteries 3
Paperback / e-Book
Ghost in the Wind, December 2015
Haunted Guesthouse #7
Paperback / e-Book
Inspector Specter, December 2014
A Haunted Guesthouse Mystery #6
Paperback / e-Book
The Thrill Of The Haunt, November 2013
Haunted Guesthouse #5
Paperback / e-Book
Chance of a Ghost, February 2013
Haunted Guesthouse #4
Mass Market Paperback / e-Book
Old Haunts, February 2012
Haunted Guesthouse #3
Paperback / e-Book
An Uninvited Ghost, April 2011
Haunted Guesthouse #2
Paperback / e-Book
Night Of The Living Deed, June 2010
Haunted Guesthouse #1
Paperback / e-Book