Victoria Holt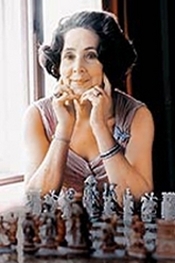 Pseudonym for Jean Plaidy.
Pseudonym: Philippa Carr.

Eleanor Alice Burford Hibbert, better known to readers as Victoria Holt, Philippa Carr, and Jean Plaidy, was one of the world's most beloved and enduring authors. Her career spanned five decades and she was heralded as the "Queen of Romantic Suspense." She continued to write historical fiction under the name of Jean Plaidy and romantic suspense as Victoria Holt—up until the time of her death on January 18, 1993.
Log In to see more information about Victoria Holt
Log in or register now!
Series
Books:
The Pride of the Peacock, January 2014
Paperback / e-Book (reprint)
The India Fan, March 2013
Paperback / e-Book (reprint)
Mistress of Mellyn, December 2008
Trade Size (reprint)
The Shadow Of The Lynx, June 1971
Hardcover

More Information
* Mistress of Mellyn (1960)
* Kirkland Revels (1962)
* Bride of Pendoric (1963)
* The Legend of the Seventh Virgin (1965)
* Menfreya in the Morning (1966)
* The King of the Castle (1967)
* The Queen's Confession: The Story of Marie-Antoinette (1968)
* The Shivering Sands (1969)
* The Secret Woman (1970)
* Shadow of the Lynx (1971)
* On the Night of the Seventh Moon (1972)
* The Curse of the Kings (1973)
* The House of a Thousand Lanterns (1974)
* Lord of the Far Island (1975)
* The Pride of the Peacock (1976)
* Devil on Horseback (1977)
* My Enemy, the Queen (1978)
* Spring of the Tiger (1979)
* Mask of the Enchantress (1980)
* Judas Kiss (1981)
* The Demon Lover (1982)
* The Time of the Hunter's Moon (1983)
* The Landower Legacy (1984)
* The Road to Paradise Island (1985)
* Secret for a Nightingale (1986)
* Silk Vendetta (1987)
* The India Fan (1988)
* The Captive (1989)
* Snare of Serpents (1990)
* Daughter of Deceit (1991)
* Seven for a Secret (1992)
* The Black Opal (1993)

* * *