Gary Smalley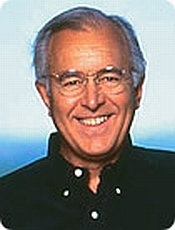 Gary Smalley is one of the country's best known authors and speakers on family relationships. He is the author and coauthor of 16 best-selling, award-winning books along with several popular films and videos. He has spent over 30 years learning, teaching, and counseling. Gary has personally interviewed hundreds of singles and couples and has surveyed thousands of people at his seminars, asking two questions: what is it that strengthens your relationships and what weakens them?
Gary's books combined have sold over 5 million copies. Many of them have even been translated into various languages. The Blessing and The Two Sides of Love have won the Gold Medallion Award for excellence in literature. The Language of Love won the Angel Award as the best contribution to family life. All other titles have been top-five finalists for the Gold Medallion Award.
In the last 30 years, Gary has spoken to over 2 million people in live conferences. He has been presenting his live two-day workshop, "Love Is a Decision," once a month for the last 20 years. Television audiences all over the world have viewed his award-winning infomercial, "Hidden Keys to Loving Relationships." Several versions of the infomercial—first with Dick Clark, then with John Tesh and Connie Sellecca, and also with Frank and Kathie Lee Gifford—have been aired. This 18-videotape series has sold over 4 million tapes.
Gary Smalley has appeared on national television programs such as Oprah, Larry King Live, Extra, The Today Show, and Sally Jessy Raphael, as well as numerous national radio programs. Gary has been featured on hundreds of regional and local television and radio programs across the United States.
Gary and his wife, Norma, have been married for 40 years and live in Branson, Missouri. They have three children, Kari, Greg, and Michael, and six grandchildren.
Log In to see more information about Gary Smalley
Log in or register now!
Series
Restoration
Books:
The Legacy, April 2015
Restoration #4
Paperback / e-Book
The Desire, September 2014
Restoration #3
Paperback / e-Book
The Promise, September 2013
Restoration #2
Paperback / e-Book
The Dance, April 2013
Restoration #1
Paperback / e-Book
Remember, September 2009
Redemption #2
Paperback (reprint)
Rejoice, September 2009
Redemption #4
Paperback (reprint)
Reunion, September 2009
Redemption
Paperback (reprint)
Return, September 2009
Redemption #3
Paperback (reprint)
Reunion, July 2004
Redemption #5
Paperback (reprint)
Rejoice, April 2004
Redemption #4
Paperback (reprint)