Lyndsay Faye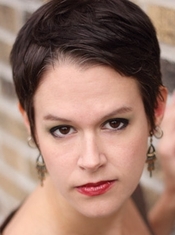 Lyndsay Faye moved to Manhattan in 2005 to audition for work as a professional actress; she found her days more open when the powers that be elected to knock her day-job restaurant down with bulldozers. Her first novel Dust and Shadow: an Account of the Ripper Killings by Dr. John H Watson is a tribute to the aloof genius and his good-hearted friend whose exploits she has loved since childhood. The book incorporates myriad contemporary accounts of Jack the Ripper's gruesome crimes, focusing on the immense difficulty of tracing a serial killer amidst the widespread censure of the public and the press, without the aid of modern forensics.
Faye's love of her adopted city led her to research the origins of the New York City Police Department, the inception of which exactly coincided with the start of the Irish Potato Famine. Her second and third novels, The Gods of Gotham and its sequel, follow ex-bartender Timothy Wilde as he navigates the rapids of his violently turbulent city, his no less chaotic elder brother Valentine Wilde, and the perils of learning police work in a riotous and racially divided political landscape.
Having grown up in the Pacific Northwest, Lyndsay migrated to Belmont, California and graduated from Notre Dame de Namur University with a dual degree in English and Performance. She worked as a professional actress throughout the Bay Area for several years, nearly always in a corset,and if not a corset then at the very least heels and lined stockings. As her roles ranged from Scrooge's lost fiancée in A Christmas Carol to Lavinia DuPlessy in Andrew Lippa's world premiere of A Little Princess, whalebone prevented her from drawing a natural breath for a number of years. She is a soprano with a high pop belt, if it interests you. Her performances were generally reviewed well, with adjectives ranging from "soaring" and "delightful" to"sausage-curled."
Lyndsay and her husband Gabriel Lehner live just north of Harlem with their cats, Grendel and Prufrock. During the few hours a day Lyndsay isn't writing or editing, she is most often cooking, or sampling new kinds of microbrew, or thinking of ways to creatively mismatch her clothing. She is a very proud member of AEA, ASH, and BSI (Actor's Equity Association, the Adventuresses of Sherlock Holmes, and the Baker Street Irregulars, respectively). She is hard at work on the sequel to The Gods of Gotham.
Interviews for Lyndsay Faye
Fresh Chat | Lyndsay Faye Ignites Intrigue in THE FATAL FLAME
The Fatal Flame
May 11, 2015
Log In to see more information about Lyndsay Faye
Log in or register now!
Series
Books:
The Paragon Hotel, January 2019
Hardcover / e-Book
Jane Steele, April 2016
Hardcover / e-Book
The Fatal Flame, May 2015
Hardcover / e-Book
Seven For A Secret, September 2013
#3
Hardcover / e-Book
The Gods Of Gotham, March 2013
Paperback / e-Book
The Gods Of Gotham, March 2012
Hardcover / e-Book
Dust And Shadow, December 2009
Paperback
Dust And Shadow, May 2009
Hardcover