Lisa Black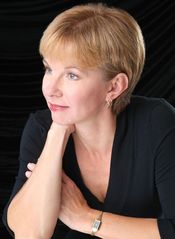 Blogging at Fresh Fiction
Lisa Black | SERENDIPITY AND THE WRITING LIFE
September 12, 2008
Any writer, I'm sure, has had the experience of a great idea striking them while engaged in an activity that had nothing to do Read More...
Pseudonym for Elizabeth Becka.

Lisa Black spent the five happiest years of her life in a morgue. As a forensic scientist in the Cleveland coroner's office she analyzed gunshot residue on hands and clothing, hairs, fibers, paint, glass, DNA, blood and many other forms of trace evidence, as well as crime scenes. Now she's a certified latent print examiner and CSI for the Cape Coral Police Department. Her books have been published in Germany, the Netherlands, France, the United Kingdom, Spain and Japan. Evidence of Murder reached the NYT mass market bestseller's list.
Log In to see more information about Lisa Black
Log in or register now!
Series
Gardiner and Renner
Books:
Every Kind of Wicked, September 2020
Gardiner and Renner #6
Hardcover / e-Book
Let Justice Descend, July 2020
Gardiner and Renner #5
Mass Market Paperback / e-Book (reprint)
Let Justice Descend, November 2019
e-Book
Suffer the Children, September 2019
Mass Market Paperback / e-Book (reprint)
The Prague Project, March 2019
e-Book
Suffer the Children, September 2018
Gardiner and Renner #4
e-Book
Perish, August 2018
Gardiner and Renner #3
Mass Market Paperback / e-Book
Perish, February 2018
Gardiner and Renner #3
Hardcover / e-Book
Unpunished, January 2018
Gardiner and Renner #2
Mass Market Paperback / e-Book
Unpunished, February 2017
Gardiner and Renner #2
Hardcover / e-Book
That Darkness, May 2016
Gardiner and Renner #1
Hardcover / e-Book
Close to the Bone, October 2014
A Theresa MacLean Mystery
Hardcover / e-Book
The Price of Innocence, November 2013
Theresa MacLean
Hardcover / e-Book
Defensive Wounds, September 2012
Paperback / e-Book
Defensive Wounds, October 2011
Theresa MacLean #4
Hardcover / e-Book
Trail Of Blood, August 2011
Theresa MacLean #3
Paperback
Trail Of Blood, September 2010
Theresa Maclean #2
Hardcover
Evidence of Murder, September 2010
Sequel to Takeover
Mass Market Paperback
Evidence Of Murder, September 2009
Theresa MacLean #2
Hardcover
Takeover, July 2009
Theresa MacLean #1
Mass Market Paperback (reprint)
Takeover, August 2008
Theresa MacLean #1
Hardcover

Videos
Click Title to Play
Defensive Wounds