Robert J. Randisi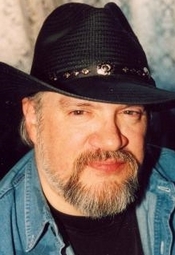 (pseudonyms include W. B. Longley, Robert Lake, Spenser Fortune, Joshua Randall, Tom Cutter, J.R. Roberts, Joseph Meek, Cole Weston, Lew Baines, Paul Ledd and Jon Sharpe)
(1951-)
He's referred to himself as "the world's biggest private eye nut," and certainly, more than anyone else since Hammett, Chandler and Macdonald, Robert Randisi has fought to ensure that P.I. fiction gets some respect. No, not just through his contributions to the genre in the form of his fictional eyes creations of Miles Jacoby, Henry Po or Nick Delvecchio, as entertaining and significant as they may be, but through his tireless promotion of the genre through his numerous non-fiction articles, his co-founding and editing, with Ed Gorman, of Mystery Scene magazine and most importantly of all through his founding of The Private Eye Writers of America in 1981. With its annual Shamus Awards, which recognize excellence in the genre, its encouragement of young writers, through a contest run in conjunction with St. Martins Press, and its high visibilty throughout the world of mystery fandom, the PWA has worked steadily through the years to make sure the genre remain not just respected, but vital and potent.
Not to slight his fiction, mind you. Booklist may damn him with faint praise, tagging him as "the astonishingly prolific Randisi... (who) may be one of the last true pulp writers, earning his living through quantity more than quality..." but his P.I. work, for which he reserves his real name, is uniformly excellent, full of sharp dialogue, generally deft characterization, smart plotting and a fine, fine sense of setting, particularly those that take place in New York City. There's also a good deal of wit, and more than a few sly winks at other writers' work.
Even more amazingly, the bulk of Randisi's work isn't even in private eye fiction--it's in westerns. He's a card-carrying member of The Western Writers of America and has written over 300 western novels under a dozen or so different names, including at least six different western series, the longest running of which is The Gunsmith series (over 300 books, and counting), which he writes as J.R. Roberts. He has also written and created The Tracker series (7 books, as Tom Cutter); the Angel Eyes series (9 books, as W.B. Longely): The Bounty Hunter series (5 books, as Joshua Randall); the Mountain Jack Pike series (15 books, as Joseph Meek); and the Ryder series (4 books, as Cole Weston). He has also written as Lew Baines, Paul Ledd, Jon Sharpe and Robert Lake.
And Randisi has written historicals, thrillers, science fiction and even porn, with four short stories relating the adventures of Max Nolan, Erotic P.I. in Beaver Magazine. But fear not -- Bob does have scruples -- he draws the line at romances.
He's also allegedly served as uncredited collaborator with Warren Murphy on the Destroyer and Trace series. He's currently writng the Joe Keough series, featuring a New York City detective transplanted to the Midwest where he's now the St. Louis department's "number-one homicide man" and has big hopes for a series of "Rat Pack Mysteries."
Randisi was born in Brooklyn, New York. and worked as a mailroom manager and a collection clerk, before nabbing a job as an administrative aide to the NYPD in 1973. He began writing at fifteen, and made his first professional submission at the tender age of eighteen, landing his first sale at twenty three. At the age of thirty, he quit the police department to write full time. Like his Joe Keough character, he now lives in St. Louis.
From the Thrilling Detective an online organization / ezine
Log In to see more information about Robert J. Randisi
Log in or register now!
Series
Books:
Ralph Compton the Sagebrush Trail, December 2021
Mass Market Paperback / e-Book
Ralph Compton the Wrong Side of the Law, July 2021
Mass Market Paperback / e-Book
Ralph Compton Frontier Medicine, January 2021
Mass Market Paperback / e-Book
Ralph Compton Ride for Justice, October 2020
Mass Market Paperback / e-Book
Ralph Compton Big Jake's Last Drive, June 2020
Mass Market Paperback / e-Book
Bullets And Lies, September 2012
Talbot Roper
Paperback / e-Book
Fly Me To The Morgue, June 2011
Rat Pack Mystery #6
Hardcover
Gallows, October 2009
Paperback
Everybody Kills Somebody Sometime, November 2006
Rat Pack Mystery
Hardcover