John R. Llewellyn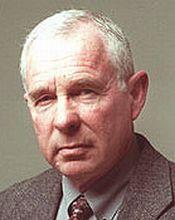 John R. Llewellyn, retired Salt Lake County Sheriff's Lieutenant, specialized in sex crime investigation that included polygamy complaints. He compiled an intelligence file on mass murderer Ervil LeBaron, who in 1977 ordered the death of Dr. Rulon C. Allred, leader of Utah's second largest polygamist group.
In order to best combat and understand the polygamist, deputy Llewellyn studied Mormon doctrine and was converted to Mormonism, and then Mormon Fundamentalism. Impressed with the integrity, virtue and undaunted conviction of many of the polygamists, Llewellyn became a member of AUB, but when the leadership claimed they were the sole conduit to a celestial exaltation, Llewellyn left.
Llewellyn is recognized as an expert on Mormon Fundamentalism and polygamy. He is also the lead investigator in a lawsuit against polygamist James D. Harmston and his True and Living Church, headquartered at Manti, Utah, as well as a consultant for the Attorney General's Office.
John Llewellyn is uniquely qualified as a polygamy expert and can speak to the issues in a way no one else can. He is highly articulate and thoroughly knowledgeable about law enforcement polygamy strategies, government attitudes, and the vast issues inside and outside of polygamy. He knows all the leaders of polygamy groups, many of their members, and a multitude of polygamists who live outside a group. Other books:Author Murder of a Prophet: Dark Side of Utah Polygamy, A Teenager's Tears: When Parents Convert to Polygamy, and Polygamy Under Attack: From Tom Green to Brian David Mitchell. He is available for interviews by TV and the Press.
John R. Llewellyn has appeared on Larry King live, ABC Primetime, The Today Show, NBC Nightly News, Fox News Channel's The Edge with Paula Zahn, MSNBC, Inside Edition, and Good Morning America.
Log In to see more information about John R. Llewellyn
Log in or register now!
Series
Books:
Polygamy's Rape of Rachael Strong, April 2006
Trade Size