Kaitlyn Rice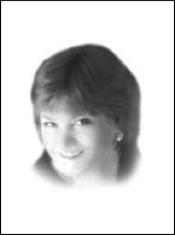 No one told Kaitlyn she should be a writer. Her grade school teachers might have noticed that she excelled at reading and spelling, but they didn't pull her notebook from beneath her desk and gasp at her wildly creative mind. Her parents knew she was a bookworm, but they seemed to consider that a quirk. Adults commented that Kaitlyn listened well, was a talented artist and was too shy to raise her hand in class. In her lower-middle-class Kansas neighborhood, writing for a living wasn't discussed. It didn't seem to be an option. Studious girls became teachers, accountants, even engineers. Not writers.
But from the moment Kaitlyn could read well enough to lose herself in a story, writing was her dream. Not because she craved fame or fortune, but because writers spent their days creating stories to share with others. Nothing could be better than that. Still, the dream was vague.
In college, Kaitlyn's course load was heavy in English and literature only because she enjoyed that type of class. After college, she settled into a job in the production side of publishing, got married and started a family.
And let her dream grow large in her head until it burst into effort.
Her first completed book taught her that she had a lot to learn. Kaitlyn felt passionate about the story, but the mechanics of getting it right were difficult. When that novel was finished, she recognized that she had a lot of hard work to do. She wanted to learn to create stories so strong they would echo in readers' minds.
She tried again. The second story was fun to write, but she was still learning. Her third effort sold to the Harlequin American Romance series, and she was overjoyed.
That euphoria surpassed the births of her daughters and her wedding day. Not because the other occasions were less momentous, but because the book sale was a personal validation. It said that even the child of nonreading parents in a lower-middle-class Kansas neighborhood could become a writer.
Because no one told her she couldn't.
Log In to see more information about Kaitlyn Rice
Log in or register now!
Series
Books:
The Third Daughter's Wish, June 2006
Heartland Sisters
Paperback
The Runaway Bridesmaid, February 2006
Harlequin American Romance 1104
Paperback