Carol Marinelli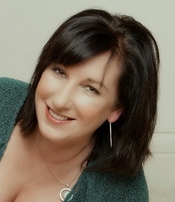 Carol Marinelli was born in England to Scottish parents, then emigrated to Australia, where there are loads of Scottish and English people who did exactly the same, so she's very at home there.
She lives in the outer suburbs of Melbourne—pretty much in her car, driving her three children to their various commitments.
Carol first tried to write for Harlequin Mills & Boon while doing her nursing training in London. It was merrily rejected and she was devastated. Rejection became a regular friend over the next few years and she amassed quite a collection. Still, as the years moved on the rejections became more detailed and instead of weeping over them and scorning them, she finally read them. Properly.
In 2000 her first romance was accepted for the Medical Romance line and she lived happily ever after. Well, that's what she thought would happen but actually, no, it was then that the hard work really began!
Once published she discovered the Romance Writers of Australia—it would, she now knows, have been far easier on this journey to have discovered them earlier. Attending her first conference she realized that she wasn't the only person who lived with a constant cinema happening in her head—in fact they were all THE SAME! Different but the same and many wonderful friendships were made.
Carol now writes for both the Medical Romance and Presents lines and loves them both.
One of her goals is to attend the Romance Writers of America conference with a few Romance Writers of Australia, which is a very nice goal to have.
Log In to see more information about Carol Marinelli
Log in or register now!
Series
Books:
The Nurse's Pregnancy Wish, February 2023
Mass Market Paperback / e-Book
Innocent Until His Forbidden Touch, September 2022
Scandalous Sicilian Cinderellas # 2
Mass Market Paperback / e-Book
The Sicilian's Defiant Maid, May 2022
Scandalous Sicilian Cinderellas # 1
Mass Market Paperback / e-Book
Forbidden to the Powerful Greek, March 2022
Cinderellas of Convenience,# 2
Mass Market Paperback / e-Book
Harlequin Presents Harlequin Presents March 2022 - Box Set 1 of 2 March 2022, February 2022
Hardcover / e-Book
The Greek's Cinderella Deal, November 2021
Cinderellas of Convenience #1
Mass Market Paperback / e-Book
Unlocking the Doctor's Secrets, September 2021
Mass Market Paperback / e-Book
The Sheikh's Baby Scandal, September 2016
One Night With Consequences
Paperback / e-Book
Redeeming the Playboy, March 2013
NYC Angels
e-Book
Beholden to the Throne, January 2013
Empire of the Sands
Paperback / e-Book
Playing The Royal Game, December 2012
Paperback
Banished To The Harem, October 2012
Paperback / e-Book
Heart of the Desert, October 2011
Paperback / e-Book
A Bride For Kolovsky, May 2011
Paperback
The Desert King's Housekeeper Bride, February 2010
Mass Market Paperback
Blackmailed Into The Greek Tycoon's Bed (Harlequin Presents), August 2009
Mass Market Paperback
Billionaire Doctor, Ordinary Nurse, May 2009
Mass Market Paperback
Hired: The Italian's Convenient Mistress, November 2008
Married By Christmas
Mass Market Paperback
Spanish Doctor, Pregnant Nurse, October 2008
Mediterranean Doctors
Mass Market Paperback
Italian Boss, Ruthless Revenge, September 2008
In Bed with the Boss
Mass Market Paperback
Expecting His Love-Child, February 2008
Expecting!
Paperback
Contracted: A Wife For The Bedroom, November 2007
Bedded By Blackmail
Paperback
Contracted: A Wife For The Bedroom, November 2007
Paperback
Bought By The Billionaire Prince, September 2007
The Royal House of Niroli
Mass Market Paperback
Wanted: Mistress and Mother, March 2007
Miniseries: Ruthless
Paperback
The Sicilian's Bought Bride, December 2006
Paperback
Taken for His Pleasure, September 2006
Miniseries: UnCut
Paperback
Dr. Carlisle's Child, August 2006
Miniseries: Pregnancies of Passion
Paperback (reprint)
Needed: Full-Time Father, March 2006
Paperback
Christmas on the Children's Ward, December 2005
Harlequin Medical Romance 232
Paperback