History ReFreshed
Exploring what's "new" on the historical shelves
A Christmas Pride And Prejudice
Julia Justiss
December 22, 2016
What could be a lovelier Christmas gift than more Elizabeth and Darcy? Given the plethora of P&P adaptations, remakes and variations, the answer must be "nothing!" For your holiday pleasure, then, I offer two other interpretations of this beloved story.
The Darcy Novels by Monica Fairview
Beginning chronologically, we start with Monica Fairview's three-volume Darcy Novels, the first of which, MR. DARCY'S PLEDGE: A PRIDE & PREJUDICE VARIATION (THE DARCY NOVELS) VOL. I begins just after Darcy's first, disastrous proposal to Elizabeth, which she scornfully refuses. Leaving Rosings to take refuge at Pemberley, Darcy tries to talk himself out of his "inappropriate" passion for Elizabeth Bennet, making lists of what he should look for in a wife, and even imagining Lizzie growing older to talk and look like her mother. Georgiana plays a role, as she seeks to recover from the disaster of her failed elopement; we see Bingley's sorrow at the loss of his Jane, and a number of other Austen stalwarts intervene to torment or assist Darcy as he works his way toward the decision that Elizabeth is, in fact, the woman for him, and he must persist in courting her.
DARCY'S CHALLENGE: A PRIDE & PREJUDICE VARIATION (THE DARCY NOVELS) VOL. II picks up the story after that momentous decision. However, Darcy's intentions to pursue Elizabeth are interrupted by Lydia's elopement with Wickham. Initially pledging to rescue the sister and salvage the family reputation of the woman he loves, Darcy rashly tears up his list of wifely qualities and tosses them away—in the wood where Elizabeth walks. Finding the list and putting two and two together, Elizabeth is once again insulted. A despairing Darcy initially intends to give up his quest to rescue Lydia and look for love elsewhere, even beginning to pay attention to a young widow. Some soul-searching, along with interactions Bingley and Georgiana, eventually convince him to continue his initial quest to save Lydia and win his lady.
After concluding volume II with Elizabeth's promise to wed Darcy, in MR DARCY'S PRIDE AND JOY (THE DARCY NOVELS) VOL. III, the couple meets an unexpected roadblock when Mr. Bennet opposes the marriage. A secret from her father's past, a surprise newspaper announcement of Darcy's engagement—to someone else, intervention by Caroline Bingley and the difficulties of Georgiana, who is resisting being drawn into an engagement she doesn't want, further complicate the couple's path to the altar. But True Love must prevail at last!
Letters from Pemberley by Jane Dawkins
Moving into the post-Jane Austen Pride and Prejudice future and a very different format, we have Jane Dawkins's two volumes of LETTERS FROM PEMBERLEY. THE FIRST YEAR documents Lizzie's initial twelve months of married life as Mrs. Fitzwilliam Darcy through the letters she writes to Jane, Aunt Gardner, Charlotte Lucas and other friends. Though some reviewers found the treatment of issues between bride and groom too saccharine and superficial—Darcy as perfect?—and Elizabeth not quite spunky enough—Lizzie, cowed by Lady Catherine?—others felt the epistolary approach and sense of the period made a fitting continuation of the P&P saga.
Dawkins's second volume, MORE LETTERS FROM PEMBERLEY: 1814-1819, continues the story of the mistress of Pemberley through the next few years, and is more complex and darker in tone. Here tragedies intervene, conflicts between the couple and with larger society bring a deeper edge to the problems of Lizzie settling into the role of chatelaine of a great estate. However, the letter format continues to give the tale a verisimilitude and freshness that make it unique in the P&P-clone genre.
Ready to put yourself on your gift list with a clutch of new novels about the divine Elizabeth and the delicious Darcy? There are still a few shopping days left before Christmas!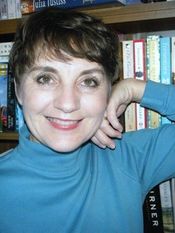 Real, intense, passionate historical romance
After twelve years as a vagabond Navy wife, an adventure that took her from Virginia Beach, VA, to Monterrey, CA, to Tunis, Tunisia to Oslo, Norway and back, Julia Justiss followed her husband to his family's East Texas homeland. On a hill above a pond with a view of pasture land, they built an English Georgian-style home. Sitting at her desk there, if she ignores the summer heat, she can almost imagine herself in Jane Austen's Regency England.
In between teaching high school French and making jaunts to visit her three children (a Seabee in Gulfport, MS, a clothing buyer in Houston and a mechanical engineer in Austin, TX) she pursues her first love—writing historical fiction.
Series: Regency Silk & Scandal | Hadley's Hellions | Ransleigh Rogues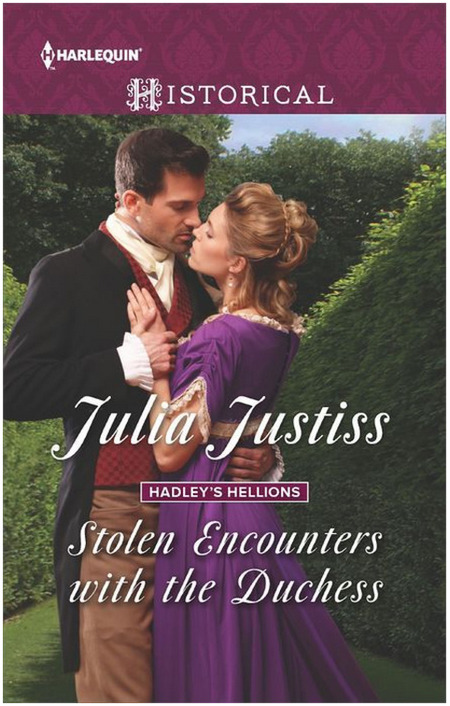 She would rather burn in his presence than pine in his absence
Faith Wellingford Evers, Duchess of Ashedon, is tired of society's endless gossiping about her failings and her late husband's infidelities. Seeking escape one night, she's attacked by ruffians, but is saved by an unlikely figure from her past!
Having risen from penniless orphan to Member of Parliament, David Tanner Smith is no longer the quiet boy Faith once knew. With the first spine-tingling kiss, their old friendship is transformed. And in its place is an explosive mix of illicit encounters and forbidden desire…
Romance Historical [Harlequin Historical Romance, On Sale: August 23, 2016, Paperback / e-Book, ISBN: 9780373298969 / eISBN: 9781488004339]
Comments
No comments posted.

Registered users may leave comments.
Log in or register now!