The American revolution is having a bit of a moment in the collective conscience and just in time for July 4th! Here's a recommended reading list so that you can kick back and do a little "independent" reading during this patriotic holiday.
The hottest musical on the planet has tried to satisfy fans with a book that parallels the creative journey of making a broadway hit with the struggles and dedication needed to bring about a new nation. Gossipy, clever, and earnest by turns, this beautiful book just works.
In a compelling, richly researched novel that draws from thousands of letters and original sources, bestselling authors Stephanie Dray and Laura Kamoie tell the fascinating, untold story of Thomas Jefferson's eldest daughter, Martha "Patsy" Jefferson Randolph—a woman who kept the secrets of our most enigmatic founding father and shaped an American legacy.
If you enjoyed the National Treasure movies, you'll love Steve Berry's modern-day sleuth, Cotton Malone, who delves into the secrets of our Founding Fathers to head off a presidential assassination. This thriller promises adventure, history, and a big dose of fun!
Funny, irreverent, and filled with historical tidbits that shed new light on America's Favorite Fighting Frenchman, Sarah Vowell's book is a stark reminder of how America has been influenced by our heroes, and how America influenced them.
What could be more delicious than the idea of an American actress and playwright turning her poisoned pen against a British general in British occupied Manhattan in 1777? Not much. Thorland explores the unrest of an American city under occupation and gives a glimpse into the lives of brave women at the time the nation was founded.
The charming lover in Sheridan's comedy The Rivals, is famous throughout London. However, this notoriety comes as a shock to the real Jack Absolute when he arrives in England after four months at sea. But there's barely time for outrage before he's forced to flee London and become a spy in America's war of Independence. Thus we meet Jack Absolute--rogue, duelist, charmer and Captain in the Light Dragoons, from the field of honor in London through the pivotal battle of Saratoga to a hunt for a double agent in wintry Philadelphia.
McCullough's narrative non-fiction is so compelling that it reads like a novel and will have you on the edge of your seat, actually doubting that George Washington is going to pull off this war of Independence. Informative, exciting, and unforgettable!
If an entire nation could seek its freedom, why not a girl? As the Revolutionary War begins, thirteen-year-old Isabel wages her own fight...for freedom. Promised freedom upon the death of their owner, she and her sister, Ruth, in a cruel twist of fate become the property of a malicious New York City couple who have no sympathy for the American Revolution and even less for Ruth and Isabel. When Isabel meets Curzon, a slave with ties to the Patriots, he encourages her to spy on her owners, who know details of British plans for invasion.
This is a dishy and contrarian picture of the Revolution. Burr is a portrait of perhaps the most complex and misunderstood of the Founding Fathers. Aaron Burr fought a duel with his political nemesis, Alexander Hamilton, and killed him. He was arrested, tried, and acquitted of treason. But now he is determined to tell his own story.
A riveting historical novel about Peggy Shippen Arnold, the cunning wife of Benedict Arnold and mastermind behind America's most infamous act of treason . . .
Can you think of any more to add to the list?
GIVEAWAY
Thanks to Harper Collins we're giving away a special Fourth of July celebration!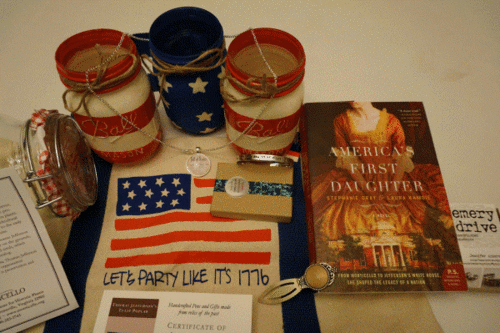 Prize includes:
1 comment posted.