When I was first asked to write this feature on Jayne Ann Krentz, I was thrilled, I love her books and the many genres that she presents us. Then as I thought about it I was totally intimidated. What can I say about this author whose books grace my shelves and have for years? While planning this out I took the time to study up on Ms. Krentz and of course reread some of her past offerings and I found myself falling in love with many of her characters all over again. Now I truly think I know this author better and think I now understand why I, and so many others, read her books.
There were some things that I didn't know about JAK, which gave me even more respect for this woman. She began writing during a stint at Duke University where she worked in the library system. For six years she received rejection after rejection and even thought of giving up on writing but by that time it was a "compulsion" which luckily for us she couldn't give up. After moving to Washington for her husband Frank's aerospace career she continued writing and in 1979 her first book GENTLE PIRATE was published. In those days she published under her birth name Jayne Castle but when she left that particular publisher she was unable to use the name for another 10 years.
In the years that followed she wrote under various names: Jayne Taylor, Jayne Bentley, Stephanie James, Jayne Ann Krentz, Amanda Glass, and Amanda Quick. Most recently settling on Jayne Ann Krentz for her contemporary, Amanda Quick for her historical and Jayne Castle for the paranormal, futuristic books. A number of times all three of her persona have written linked books that had to have been a lot of work to plan out.
Having owned and read most of everything she has written I cannot imagine what those publishers were thinking to turn down her books. Perhaps it made her a much more determined and conceivably better writer. But I do believe that we readers get to see quite a bit of her personality in each book she writes. If you look closely at a number of her female characters you will find a good amount of determination and grit that could only come from one place: experiences from her own past and an insight into what makes people tick.
The one thing I have always found most intriguing and was reminded of as I was re-reading her books is that her heroines are not perfect. They have faults, are a little wacky, damn the consequences when it comes to family and are usually just what the taciturn heroes need. The men are oftentimes troubled, overprotective, with strong senses of family, of right and wrong, set in their ways, have particular expectations and usually not very good at expressing themselves. In other words they are not perfect either.
You find very much the same formula in SECRET SISTERS, the latest offering of JAK to be released on Dec. 8, 2015. Here is the exciting blurb from the back of the book:
Madeline and Daphne were once as close as sisters—until a secret tore them apart. Now it might take them to their graves.
They knew his name, the man who tried to brutally attack twelve-year-old Madeline in her grandmother's hotel. They thought they knew his fate. He wouldn't be bothering them anymore...ever. Still their lives would never be the same.
Madeline has returned to Washington after her grandmother's mysterious death. And at the old, abandoned hotel—a place she never wanted to see again—a dying man's last words convey a warning: the secrets she and Daphne believed buried forever have been discovered.
Now, after almost two decades, Madeline and Daphne will be reunited in friendship and in fear. Unable to trust the local police, Madeline summons Jack Rayner, the hotel chain's new security expert. Despite the secrets and mysteries that surround him, Jack is the only one she trusts...and wants.
Jack is no good at relationships but he does possess a specific skill set that includes a profoundly intimate understanding of warped and dangerous minds. With the assistance of Jack's brother, Abe, a high-tech magician, the four of them will form an uneasy alliance against a killer who will stop at nothing to hide the truth....
SECRET SISTERS is filled with mystery, heart stopping and titillating action and a load of very interesting and even a few questionable characters … some you just know are behind the troubles and of course you are usually wrong. I have always believed that the bond of "sisterhood" has little to do with blood, it is clearly of the heart and Maddy and Daphne, even though they have been apart for a long time, still feel like they are sisters.
When I pick up a JAK book, I know I have to set aside time to read, simple because I won't want to be interrupted until I have hit the last page. I had to know what was really going on and to watch as Maddy and Jack figured out the truth … they are perfect for one another.
See what I mean, these two are flawed with mysterious pasts but are ideal for each other following JAK's perfectly tuned style. This I think has always been what I, and undoubtedly many other fans, have loved about the stories we all get lost in … these people are just like us. We can identify with her characters, understanding exactly how they feel. They could be any one of us … those of us who are a little different; those who don't walk the same path as everyone else; who feel strongly about our unique right and wrong and those determined to live life to the fullest even if it's a little quirky. And there is also the fact that her male characters are just the type of men who set us to dreaming or if we have found our soul mates applaud the lucky couple who find theirs at the end of every book.
I am convinced that Jayne Ann Krentz writes these books that include all types of people so that we can all feel as if we are a part of her world. It is an amazingly wonderful world that I look forward to reading and re-reading for many more years to come. So thank you Ms. Krentz for including me and so many like me in your books.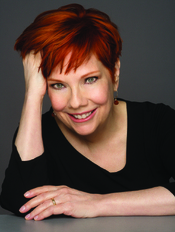 Jayne Ann Krentz is the author of fifty New York Times bestsellers and has over forty million books in print. Jayne writes fast-paced suspense with a sexy edge under three pen names. If you like contemporary settings, try one of her new releases written under her Krentz name. Readers looking for a similar thrill in a historical setting go for the books she writes as Amanda Quick. And those adventurous types who prefer their suspense with a futuristic/paranormal twist read the novels she writes as Jayne Castle.
3 comments posted.