Lori Brighton | Historical Inspiration

December 10, 2010
The Ghost Hunter
Lori Brighton
AVAILABLE

October 2010
On Sale: October 1, 2010
Featuring: Ashkey Hunter; Cristian
ISBN: 1452437521
EAN: 9781452437521
e-Book
Add to Wish List

Also by Lori Brighton:
To Seduce An Earl, November 2012
Wild Desire, March 2011
The Mind Readers, December 2010
The Ghost Hunter, October 2010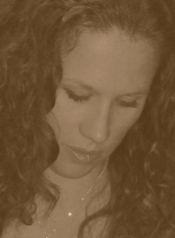 I've always loved history; there's something very romantic in thinking about the past. Perhaps it's because my mom would drag us to antique shops when we were children and I'd tiptoe around piles of ancient objects, feeling as if I was peeking into someone's private life. Being that we lived in the Midwestern U.S., these antique shops would be full of Victorian Era leftovers, about the earliest date we have. It's not only in antique shops where you can find Victorian fingerprints. Just about every Midwestern city has ornate Victorian homes in their downtown area. So you can definitely say I've been surrounded by the 1800s for most of my life.
When I decided to become a writer, there were many time periods I could have picked. I loved the Medieval era for their Knights in Shining Armor. And of course there is the Colonial era here in America with its stark attractiveness; an era I feel is rather under-developed in the romance world. There is also the lovely delicateness of the Regency time period, one of the most popular of the romance genres. But for me, it has always been about the Victorian era. Some find the décor gaudy, but I find it elegant and artistic.
I just recently released two contemporary books: THE GHOST HUNTER, a paranormal romance, and THE MIND READERS, a young adult book. But I also write historical romances, and the first book I had published, WILD HEART, was a historical. Naturally, I set the story in the Victorian era. Every piece of Victorian clothing, furniture, even the homes themselves, are like a work of art. The details, rich colors, corsets and tight riding breeches... all of this, along with societal restrictions, make the Victorian era a time for drama and passion.
On a recent trip to Savannah, Ga., I was reminded of why I love the Victorian era. Savannah is known for its culture rich in history and more importantly it's known for being the first planned city in America. A plan that involved squares, or parks, surrounded by historical homes, many of which are Victorian mini-mansions worth millions. Savannah has buildings from the 1700s upward, but it's the Victorian era mansions which seem to be the most photographed. Originally there were twenty-four squares. It's best to take a trolley tour to see them all. Later, you can visit the Riverfront area. Cobblestone streets are lined on one side with historical brick buildings, and on the other side the river. Over the roar of tourists shopping at the many stores, you can almost hear the ancient calls of sailors returning from months at sea.
Even in my contemporary books, the Victorian era slips in. Read the excerpt from my contemporary paranormal romance, THE GHOST HUNTER, below and you'll see what I mean:
In the dim light she could make out a staircase that curved up to a second story. The thick, medieval-like walls were covered with dark wainscoting. To the former owners benefit, someone had tried to combine that medieval austerity with a Victorian elegance. It was an odd mixture of time periods, like a decorator's Frankenstein.
Although the foyer was empty, a large brass light hung from the ceiling, intact with frosty white globes. At the end of the stairway railing, a carved woman gave her a saucy smile while baring her wooden knockers for all to see. Wonderful, she couldn't wait to wake up to that every morning.
Steeling herself, she peered into the closest door. The windows were covered with thick maroon drapes, giving the room a creepy red glow. Across the room, her reflection stared back through a dusty mirror that hung above a massive mahogany bar. She took a step closer, studying her reflection. Her dark hair contrasted with the paleness of her face. Nerves and a lack of sleep made her look even more washed out than normal. What the hell had she gotten herself into?
&mquot;I know you meant well, Aunt Clare, but sheesh.&mquot;
Even though it hadn't been a working pub in a long while, she knew Aunt Clare had been living here, so she thought at least it'd be decent. She was wrong. On the other hand, the antique tables and chairs stacked against the far wall were to die for and probably worth a small fortune if cleaned and repaired.
She moved through the large room, the sound of her footsteps echoing against the peeling papered walls. Besides the sound of floorboards creaking under her tennies, the house was silent, watchful. Realization struck and she paused in midstride. Too watchful. A familiar cold unease tickled the back of her neck like unseen fingers trailing over her skin.
So, I'm curious to know, where's your favorite historical place to visit and why? Leave a comment! To celebrate the release of my newest book, THE MIND READERS, two people will win an ecopy of my contemporary paranormal, THE GHOST HUNTER, and an ecopy of my young adult book, THE MIND READERS.
If you can't wait to read THE GHOST HUNTER, it's available for a limited time for only .99 cents!
Comments
23 comments posted.
Re: Lori Brighton | Historical Inspiration

There's no place quite like London England!
(Cate Sparks 8:47am December 10, 2010)
In books there are so many fascinating and interesting places to visit... personally I enjoyed visitng West Point in NY... seeing the sights and wondering who stood in the same spots I was standing in...
(Colleen Conklin 1:06pm December 10, 2010)
I love the Renasance (can't spell it, though). And I love reading Regency historicals.

As for location: hubby took me to Paris, France couple years ago. It was the best (haven't traveled THAT much, so limited on how much to compair to)! SOOOO much history all around that city, so many centuries, one right on top of another! And so much of that city is set up for tourist (I wouldn't want to live there, that is how much it is geared to the tourist)! We were there for 2 weeks and still did see/do everything I could have wanted...

vickykerr[at]sbcglobal.net
(Victoria Colyer-Kerr 1:28pm December 10, 2010)
I would say China. So much history existed and so many changes have happened to China.

After being at the Great Wall of China, I have never realize that the climb up to each of the watch towers are steep and they do get steeper. The stairs are very narrow and they are also steep. I don't know how the guards patrolled Ancient China back then. When it snow, the paths that connect each of the towers are slippery. Without traction, one could so easily slips.

After being in Beijing, Shanghai and several other cities, it is a wonder how much modernizations have happened to China.

I don't think I can ever get tired of China.
(Kai Wong 3:00pm December 10, 2010)
I've never been there, but I'd love to travel to Washington DC---so much has taken place there that I could spend a whole month just poking around.
(Sue Farrell 3:22pm December 10, 2010)
Hi Everyone! Thanks so much for stopping by. There are so many wonderful places I've visited. I could talk travel all day. A few months ago we went to St. Augustine in Florida. I had no idea we had places that old here! You can totally imagine pirates walking around. Gettysburg is another place I love to visit. And about 10 years ago we went on a trip to England and Scotland. Wow! Talk about history. I'm hoping to visit again soon. The museums in D.C. are great! And New York is beautiful, although I've never been to the city area. My cousin lives in NY city so I'm hoping to go there sometime soon. I'd love to see China and France!
So many places, so little time...and money. lol
(Lori Brighton 4:46pm December 10, 2010)
Hi Lori! You brought back memories of my home town of Independence,MO. I didn't realize it at the time what a treasure those old Victorian homes were/are. I, like you & others, have been privileged to tour houses in the south (our history there is a wondrous story!), in the mid-west, Boston in the north, & out here in California where I live now. Eureka CA has a number of the colorful "painted ladies" Victorian houses, as well as Redlands,CA. My favorite in Redlands was built by a retired sea captain using a ship builder as the main architect/builder. Where the wood is , it looks like the sides & bottoms curved like a ship. The woods are so beautiful even after all these years. The lady of the mansion brought in oranges & I believe she established the first CA orange groves. To honor her love of oranges, all the door knobs, hinges, & other metal as well as wood decorations had orange blossoms carved/imprinted on them. Maybe for our time over the top as far as decorations, but certainly romantic!
(Jean Merriott 6:19pm December 10, 2010)
Scotland I think...Hearing the pipes, visiting all those castles, battlefields etc...If I have to pick a particular place there, Edinburgh would be it....I've heard it still has a lot of the very old still there. The whole country just intrigues me no end.
(Ivy Truitt 7:55pm December 10, 2010)
Hi Jean! I'm hoping to go to CA in the next year or two to visit family, I'll have to check out the places you mention.

Hi Ivy! I totally agree. I'd move to Scotland in a second, if I could!
(Lori Brighton 10:31pm December 10, 2010)
I have been to a few historical places, but the one place that I have always wanted to go to is Ellis Island. My Grandparents, although now passed away, came to this country as young people, and I would like to go there just to see where my family got its' start, and try to get a feeling of what it must have been like for them. It has been a dream of mine for decades now, and I haven't had the means to do so. I would also like to go to Arlington Cemetary. I'm the type of person that goes to old places or old buildings and sometimes picks up feelings, almost like goosebumps from prior people. It might be imagination or it could be the real thing, but it's the oddest sensation to feel. I also love old lighthouses.
(Peggy Roberson 10:50pm December 10, 2010)
I love to read about England and Scotland. Their history is interesting.
(Ginger Hinson 11:35pm December 10, 2010)
I'm a huge historical romance fan. If it has ghosts or time-travel, I enjoy it even more. Scotland is probably my favorite setting.
(MaryAnne Banks 1:35am December 11, 2010)
England, London most of all. Just amazing!! I do love my history.
(Mary Preston 2:17am December 11, 2010)
I just like historicals. I prefer them to take place in England, Scotland, or Wales though.
(Cathy Phillips 6:32pm December 11, 2010)
I have not traveled much(yet), but one place that speaks to me to pay respect is Culloden Field in Scotland. My ancestry is not Scottish, but my heart and soul have been for many years.
(Debra Simning-Chapman 6:33pm December 11, 2010)
I enjoy reading historical romance but I like the Scotland ones the most.
(Vickie Hightower 6:40pm December 11, 2010)
I have been to Scotland. My Dad was born there so I got to visit relatives. It is interesting to see a country with natives as guides. The old churches were great. I also got to go to the visit wedding in my generation - the bride had never been to a wedding. Can't imagine that!
(Winnie Kowalski 7:19pm December 11, 2010)
I have to add a couple of thoughts that your fans brought to mind. Have always loved history, maybe because I really didn't know about my own until I was a grown woman. Then, I found that I had a connection to the U.K. big time. England, Scotland, Wales, & Ireland. Haven't made it to any of these places except by way of historical writers. :) Thank you!
On a trip to the east, planned to see Ellis Island & got to the parking lot to see the last ferry of the day leaving..we missed it by 5 minutes! I could have cried! We were to travel up to Nova Scotia (New Scotland in the "new world"!)the next day, so never got back.:( Lots of neat things to see there, as well as Quebec in Canada) Beautiful old old homes,buildings, churches, museums, wonderful history. Oh, try to get up to Fort Niagara when you get to New York they have people acting the parts of past residents, it's like a step back in time! I envy you all that have been to the U.K. The closest I've come is the Scottish games, even though they do give you a taste of Scotland, I'd still like to walk in the history myself!
(Jean Merriott 8:12pm December 11, 2010)
I do not have any favorite historical places that I have visited. Most of the historical places I know about are in books. Another reason to read!
(Linda Pillow 9:41pm December 11, 2010)
I love to read about historical England or Scottland. All the wonderful old castles, kings knights and ladies in trouble. This sounds like a wonderful book. I also love to visit all the wonderful historic places when I'm on vacation
(Diane Castiglione 10:24pm December 11, 2010)
I have never been there, but I would love to go to England. They have such a rich history, that I would love to see.
(Debbie Penny 8:05am December 12, 2010)
I love the regency period and Georgette Heyer's romances.
(Alyson Widen 12:17pm December 13, 2010)
I have two favorite places where I must return to and explore again. My husband and I usually travel and visit historic areas of the USA but we made a trip to England and Scotland and I was captivated.

My first moment of awe was at Winchester Catedral because the organ started playing when we opened the door! The architecture and history is awe inspiring. Another surprise for me was seeing the tomb of Jane Austin whose writing I first fell in love with when I was in the 6th grade. On the same trip we also visited Lithinglow Castle outside of Edinbourgh. The days visited we were the only ones there and you could literally "feel" the past around you.

The one place we didn't get to visit was the home of my anchesters in northern Scotland so we hope to plan another trip where we can visit both the Scottish Highlands for me and Naples, Italy for my husand to "connect" with his heritage as well.
(Jeanne Miro 10:18am December 13, 2010)
Registered users may leave comments.
Log in or register now!