1--What is the title of your latest release?
2--What's the "elevator pitch" for your new book?
Inspired by an incredible true story, THE WINTER ORPHANS is a poignant and ultimately triumphant novel about refugee children who braved wintry mountain passes in France to escape the Nazis, and the women who fought to save their lives.
3--How did you decide where your book was going to take place?
Because my grandmother was a front-line nurse in World War II, I have always been fascinated by the setting of wartime France. When I came across an article about a group of Jewish refugee children who survived the war in southern France against all odds, I was captivated. I soon found myself reading everything I could find on the subject, and the novel began to take shape.
4--Would you hang out with your heroine in real life?
Absolutely! The real individuals who inspired my three main characters were remarkable people, and I would have been honored to know them.
5--What are three words that describe your hero?
This book actually has three point-of-view characters, so I will choose words that describe them all: resilient, idealistic, and courageous.
6--What's something you learned while writing this book?
Overall, I developed a greater understanding of the hidden ways people helped those who were imperiled in occupied France. It was inspiring to discover stories of people who acted with integrity and courage in the face of great adversity, risking their lives to save others. I also read countless stories of people who survived the war despite relentless persecution, and I was awed by their fortitude and bravery.
7--Do you edit as you draft or wait until you are totally done?
I try not to edit as I write, but I can't help it! I typically write for the first half of the day, take a break in the afternoon to spend time with my children, and then sit down again for a couple of hours after dinner to tighten up that morning's work. I attempt to hold off on major revisions until I have a complete draft, though it's tough to do once I start planning changes.
8--What's your favorite foodie indulgence?
I love charcuterie platters. I generally enjoy snacking and sampling different foods, so platters with lots of fancy things to try are one of my favorite indulgences.
9--Describe your writing space/office!
We built our house, which was quite a journey, and through the entire process I was most excited about the room that was to be my office. It's a small space with a view out to my garden, and it's decorated with all of my favorite things. The walls are lined with my mom's artwork and photos of my family, my desk is my grandmother's antique dining table, and my great-aunt's bookcase lines one wall. Nearly every object in the room has a story and means something to me. It's also the preferred hang-out for my two dogs, so it's basically a perfect space!
10--Who is an author you admire?
I loved Anthony Doerr's All the Light We Cannot See when I read it years ago, and this summer I was astounded by his latest, Cloud Cuckoo Land. He is a phenomenal writer.
11--Is there a book that changed your life?
When I was in sixth grade, I read Les Miserables by Victor Hugo, and it absolutely blew me away. I wanted to be a writer from a very young age, and reading that masterpiece only amplified my interest in storytelling. I can still vividly recall scenes from the story all these years later!
12--Tell us about when you got "the call." (when you found out your book was going to be published)
I was actually camping with my family when I got the call. My first book went to auction, so I had a handful of phone calls with interested editors over the course of a few days. They took place not in my office, as I'd always imagined, but in a windy oceanside campsite! I was completely thrilled by the entire process, and still feel so fortunate and grateful.
13--What's your favorite genre to read?
Historical fiction, predictably! However, I really do enjoy most genres of books.
14--What's your favorite movie?
I love Forrest Gump.
15--What is your favorite season?
It's a tossup between spring and summer! I'm an avid gardener, so spring is an especially lovely season for me with all of its new growth and promise. However, I adore sunshine and doing everything outdoors, so it's tough to choose between the two seasons.
16--How do you like to celebrate your birthday?
For a few years now, I've spent my birthday hiking with my family and then going out to eat a good meal. I love this tradition and hope to continue it for years to come.
17--What's a recent tv show/movie/book/podcast you highly recommend?
I really enjoyed Sue Monk Kidd's The Book of Longings, and I have recommended it often in recent months.
18--What's your favorite type of cuisine?
Thai food. I think I would be happy eating Thai food for every meal!
19--What do you do when you have free time?
When I'm not reading or writing, I love to ride horses, so I sneak out to the stable whenever I get the chance. I also enjoy working in my garden, hiking with my family, and going swimming in nearby lakes and oceans.
20--What can readers expect from you next?
My next novel is inspired by the true story of groundbreaking Scottish women who created and staffed front-line hospitals during World War One. Led by one of the first female surgeons in Britain, they traveled overseas to serve on allied front lines, saving countless lives and proving women's capabilities amid daunting circumstances. Currently, it's scheduled to release in fall of 2023.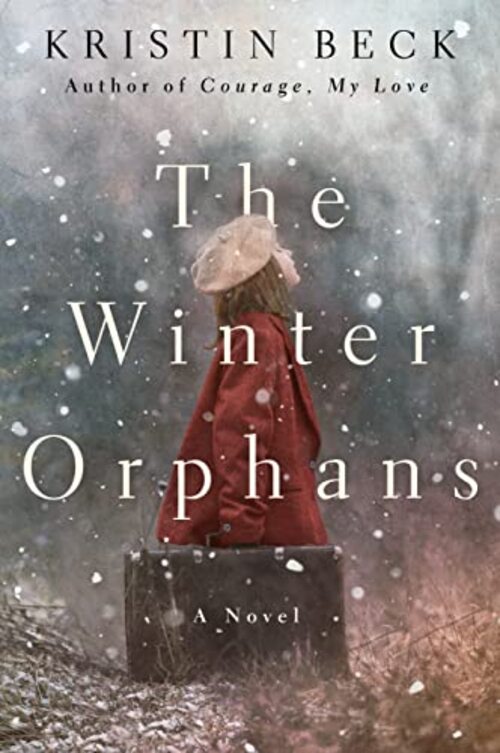 In a remote corner of France, Jewish refugee Ella Rosenthal has finally found a safe haven. It has been three years since she and her little sister, Hanni, left their parents to flee Nazi Germany, and they have been pursued and adrift in the chaos of war ever since. Now, they shelter among one hundred other young refugees in a derelict castle overseen by the Swiss Red Cross.
Swiss volunteers Rosli Naf and Anne-Marie Piguet uphold a common mission: to protect children in peril. Rosli, a stubborn and resourceful nurse, directs the colony of Château de la Hille, and has created a thriving community against all odds. Anne-Marie, raised by Swiss foresters, becomes both caretaker and friend to the children, and she vows to do whatever is necessary to keep them safe.
However, when Germany invades southern France, safeguarding Jewish refugees becomes impossible. Chateau de la Hille faces unrelenting danger, and Rosli and Anne-Marie realize that the only way to protect the eldest of their charges is to smuggle them out of France. Relying on Rosli's fierce will and Anne-Marie's knowledge of secret mountain paths, they plot escape routes through vast Nazi-occupied territory to the distant border. Amid staggering risk, Ella and Hanni embark on a journey that, if successful, could change the course of their lives and grant them a future.
Historical | Women's Fiction Historical [Berkley, On Sale: September 13, 2022, Trade Paperback / e-Book, ISBN: 9780593101582 / eISBN: 9780593101599]
Kristin Beck first learned about World War II from her grandmother, who served as a Canadian army nurse, fell in love with an American soldier in Belgium, and married him shortly after VE Day. Kristin thus grew up hearing stories about the war, and has been captivated by the often unsung roles of women in history ever since. A former teacher, she holds a Bachelor of Arts in English from the University of Washington and a Master's in Teaching from Western Washington University. Kristin lives in the Pacific Northwest with her husband and children. This is her first novel.
1 comment posted.