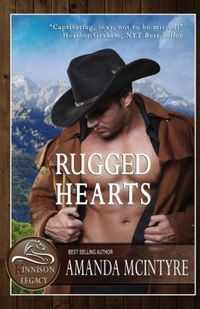 Is there a cowboy on your wish list this year? Meet Wyatt, Rein and Dalton, the formidable men of the Kinnsion Legacy and the women who will tame them! Just in time for the holidays, a Christmas romance with all the trimmings! Snuggle up with a cowboy this Christmas! Enter below to win a holiday stocking filled to the brim with hand-picked gifts and winner's choice of a print or e-book format of RUGGED HEARTS, first book in the best-selling Kinnison Legacy series!!
Rugged, quiet, hardworking, Wyatt takes his position as head of the Kinnison family seriously. But the scars of betrayal by the women to whom he once trusted his heart now prompt his stark, simple game plan, and no one in hell is going to convince him any differently. What matters most, besides the welfare of his brothers, is to manage the ranch left to him and never risk his heart again to something as foolish as love—but after meeting Aimee, Wyatt begins to realize that a man should never say never to a determined second grade teacher.
When vivacious, resilient Aimee Worth loses her twin sister in a tragic accident, she makes the choice to live out her sister's dream of teaching in the small mountain community called End of the Line, Montana, never suspecting she'd meet her Mr. Right in the middle of nowhere—he just doesn't know it yet. Used to challenges, her spirit shatters the perceptions that have kept him isolated from living life beyond the ranch, proving to him that when it comes to love, the greatest risk is not taking one.
Contest ends: December 16, 2013