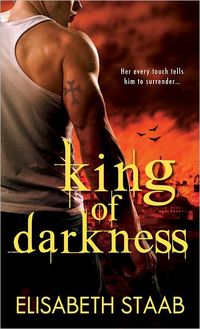 Leave a comment today on Elisabeth Staab's guest blog post for a chance to win your own copy of KING OF DARKNESS. TWO WINNERS. US/ Canada only
ETERNAL COMMITMENT IS NOT ON HER AGENDA...
Scorned by the vampire community for her lack of power, Isabel Anthony lives a carefree existence masquerading as human--although drifting through the debauched human nightlife, she prefers the patrons' blood to other indulgences. But when she meets the sexy, arrogant king of the vampires, this party-girl's life turns dark and dangerous.
BUT TIME'S RUNNING OUT FOR THE KING OF THE VAMPIRES...
Dead-set on finding the prophesied mate who will unlock his fiery powers, Thad Morgan must find his queen before their race is destroyed. Their enemies are gaining ground, and Thad needs his powers to unite his subjects. But when his search leads him to the defiant Isabel, he wonders if fate had gotten it seriously wrong...
You must leave a comment on Elisabeth Staab guest blog post to win.
Contest ends: February 22, 2012