Patti Paonessa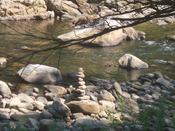 Features & Posts
No posts found.
5 comments posted.

Re: Fair Weather Enemies (8:50pm February 12):

First of all, thank you. Secondly, I like historicals because I learn thing from
history that are new and interesting.

Re: Murder in Morningside Heights (10:56pm May 3, 2016):

My days are usually the same. I suffer chronic migraines and I am usually
in pain every day. Quiet reading is my favorite thing to do.

Re: The Bride Wore Starlight (1:10pm February 21, 2016):

This has me intrigued. I am adding it to my tbr list.

Re: What the Heart Wants (11:34am January 5, 2014):

We have "those women" in my family too. I also remember the oil I'm my
ear with the cotton balls and other seemingly strange cures. But they work.
I can't wait to read this you have me hooked.

Re: The Groom's Gamble (11:24am January 5, 2014):

I love the cover of Groom's Gamble. If I had to pick from the others I would
say Thunder Struck. I hope that 2014 is a healthy and happy year for you. I
can't wait to read more of your books.