"Fans of Sylvia Day will relish this emotional and thought-provoking story..."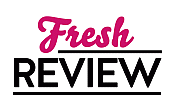 Reviewed by Danielle Dresser
Posted August 27, 2019

Romance Erotica Sensual | Romance Suspense
Dr. Teagan Ransom is a successful reality TV doctor - her clients include Gideon and Eva Cross of Crossfire fame- and is finally settling down on Puget Sound. She's made friends with her neighbors, has a beautiful house, and is starting to make things feel like home. Back in town after a trip to New York, Roxy's good friend and neighbor across the street, Roxy, let's Teagan know that a drop-dead gorgeous man has moved into the house next to her. Catching her up to speed while they walk Roxy's dogs, one of the dogs darts across the street and Teagan goes after her. Before she knows what's happening, a car is barrelling toward her, but at the last available moment, Teagan is toppled to safety, by none other than Garrett Frost, her new neighbor.
Garrett, a celebrated and successful artist, lets Teagan know he likes her right away. Their attraction is immediate, sizzling hot, and consumes them both. Just when Teagan feels like she can open up to him, Garrett is unavailable, both literally and emotionally. Teagan isn't sure she wants to deal with a hot and cold relationship with someone so new. And when demons from both of their pasts rear their ugly heads, Teagan and Garrett have to decide if the best way to deal with things is together. . . or alone. . .
BUTTERFLY IN FROST by Sylvia Day is the highly anticipated new story from bestselling author Sylvia Day. While this is a novella, Day packs quite a punch within this shorter format. Both Teagan and Garrett admit to having struggles with depression and it's clearly depicted on the page - it's one of the ways readers see them care for one other right away and justifies their immediate attraction and physical relationship. Day's signature steamy and inventive love scenes explore the deep passion that develops between Tegan and Garrett. The conclusion of this novella is both satisfying and unexpected, but somewhat rushed and abrupt--BUTTERFLY IN FROST definitely could have been a full-length novel. Fans of Sylvia Day will relish this emotional and thought-provoking story, wishing for more time with these characters.
SUMMARY
From #1 New York Times bestselling phenomenon Sylvia Day comes a hotly anticipated and passionate new love story.
Once, I would never have imagined myself here. But I'm settled now. In a place I love, in a home I renovated, spending time with new friends I adore, and working a job that fulfills me. I am reconciling the past and laying the groundwork for the future.
Then Garrett Frost moves in next door.
He's obstinate and too bold, a raging force of nature that disrupts the careful order of my life. I recognize the ghosts that haunt him, the torment driving him. Garrett would be risky in any form, but wounded, he's far more dangerous. I fear I'm too fragile for the storm raging inside him, too delicate to withstand the pain that buffets him. But he's too determined…and too tempting.
And sometimes hope soars above even the iciest desolation.
Emotional and heartrending, Butterfly in Frost marks a brilliant return by global sensation Sylvia Day, the #1 international multimillion bestselling author of the Crossfire saga.
Videos
---
What do you think about this review?
Comments
No comments posted.

Registered users may leave comments.
Log in or register now!