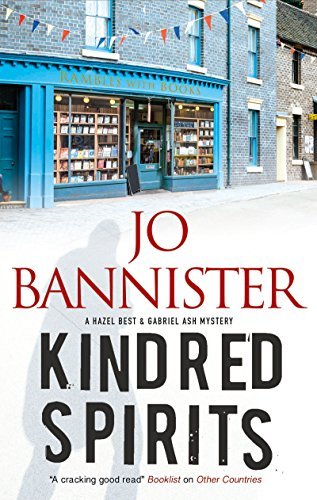 Kindred Spirits, September 2018
Gabriel Ash and Hazel Best 5
by Jo Bannister

Severn House Publishers
Featuring: Gabriel Ash; Frankie Kelly; Constable Hazel Best
220 pages
ISBN: 0727887963
EAN: 9780727887962
Kindle: B07FKDWNW7
Hardcover / e-Book
Add to Wish List

Purchase
"What crimes lie beneath the surface of a quiet Midlands town?"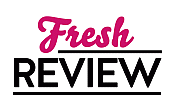 Reviewed by Clare O'Beara
Posted September 5, 2018

Gabriel Ash is happily engaged in opening his new bookshop, so new the books are still coming out of the cartons when his friend Constable Hazel Best foils the attempted abduction of his children. What a riveting opening to this crime story set in Norbold in the UK Midlands, and it certainly drew me in to read the rest of KINDRED SPIRITS.
The backstory is explained, and it's quite complex in one way, clearly from a previous book, but simple in another: Ash's estranged wife wants to take his kids away and she's a wanted criminal. He doesn't have a fortune to pay a ransom, so he believes this was Cathy's doing. Ash trusts the Filipina nanny, Frankie Kelly, who helped fight off the attackers, so now he's looking at hiring a bodyguard to let his little boys go to school. What a dilemma.
The plot thickens, as they say, and because I had not read the earlier book in the 'Gabriel Ash and Hazel Best' series, I was not sure for a while if the two were romantically involved. Hazel tells someone they're not, adding that Gabriel still has a wife. So... I can't for the life of me see why Gabriel has not put divorce proceedings underway. A nice device the author Jo Bannister uses is that Gabriel sometimes talks his train of thought aloud to his little dog Patience, imagining her calm responses. And our lovely Patience is quite the hero.
An art crime of seventeen years ago turns out to be linked to the death of an antique fence and the attempted kidnap of today, all reminiscent of the stolen Beit art collection in Ireland. While the story does get rather involved, the investigators stick to the point, so it's easy enough to follow. With a dramatic ending and many scary moments, this qualifies as a suspense story as well as a procedural crime novel.
Jo Bannister has worked as a journalist and lives in Northern Ireland. KINDRED SPIRITS is the latest of five books in this series and while that isn't an ideal place to start a series, reading this one will probably make you want to hunt out the earlier books too. I admire her characterisation and mentions of various true crime situations.
SUMMARY
A case of mistaken identity spells trouble for Gabriel Ash and Hazel Best in this intriguing mystery.
A kidnap attempt outside the school gates in broad daylight convinces Gabriel Ash that his renegade wife is trying to steal their sons from him. Only the intervention of his friend Constable Hazel Best kept them safe. It's a simple if alarming explanation, but is it the truth? Hazel uncovers disturbing information about another crime, the repercussions of which are still threatening innocent lives seventeen years later.
Once again Hazel finds herself at loggerheads with her superiors. Did they really conspire to protect a murderer? And this time she isn't getting the support she needs from Ash. She'd thought they were kindred spirits: now she's not sure what his motives are.
One thing is certain: with her life in imminent danger, Hazel's going to need friends like never before…
---
What do you think about this review?
Comments
No comments posted.

Registered users may leave comments.
Log in or register now!