"Cara McKenna offers something different for readers to devour."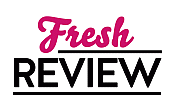 Reviewed by Annie Tegelan
Posted September 26, 2017

RIDE IT OUT is the fourth book in the Desert Dogs series by Cara McKenna. It's a contemporary Biker Romance that has a small-town feel to it. Laid back but still riddled with conflict, this small town of Fortuity has been experiencing a lot of trouble. Miah, the hero of this story, has his own set of trauma to deal with. After his father's murder, he's learning to live again. There are twists around the corner, making for an intriguing read, but the harrowing tone of this series makes it hard for the romance to bloom.
Nicki Ritchey is brand new to Fortuity and she is looking for a clean start for her family. However, an unlikely romance blooms between her and Miah before she understands what is going on.
As I mentioned before, there's a harrowing tone that lines this entire series. It can be so dark and depressing that I feel sad after reading it despite the happily ever after. The biker aspect of this series is fairly light in comparison to other biker books but that doesn't bother me. It's nice to see a biker series that isn't too aggressive or over the top. It offers something different for readers to devour.
So if you're in the mood for a more serious, more conflict-heavy biker story, then McKenna has you covered in RIDE IT OUT.
SUMMARY
There's a new deputy in town, and she's a law unto herself.
Jeremiah Church is still aching for justice to be served after his father's murder. Though the killer has been caught, the authorities are no closer to knowing why the Churches were targeted—and if the family's still at risk. When Miah receives an anonymous letter hinting at a darker conspiracy, he decides it's high time he seeks justice on his own terms, with the help of his fellow Desert Dogs.
Patrol Deputy Nicki Ritchey is new to Fortuity, and hoping to make a clean start for her and her son. Involved in the Church's case, she's kindled a friendship with Miah that's evolving into something more. But Miah is crossing lines with his personal vendetta, and Nicki's attraction is making it tough to tell right from wrong…
---
What do you think about this review?
Comments
1 comment posted.
Re: Cara McKenna offers something different for readers to devour.

Thanks for the review. Not in the mood for dark, at the
moment.
(Kathleen Bylsma 5:36pm October 3)
Registered users may leave comments.
Log in or register now!