"Situations in life may change, but life itself remains the same."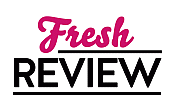 Reviewed by Viki Ferrell
Posted October 4, 2016

Holiday | Inspirational Amish | Inspirational Romance
Julia Kemp arrives in Charm, Ohio with her daughter Penny, hoping to leave the past behind to start a new life. She's been on the run for five years, and all Julia wants is to have a little place of her own and to raise her daughter in the Amish tradition. Charm seems like a perfect place. Of course, a man to love would be a plus, but if it doesn't happen, that's okay.
Julia meets her neighbor, Levi Kinsinger, while looking for a rock in the snow to bust a window and break into her own house. Julie forgot her key again. Levi is instantly struck by her kind brown eyes and dimpled chin. He has his own checkered past, leaving the family when his father died and trying to come to grips with what direction his life is heading. As they get to know each other better, each is very careful of keeping their baggage safely stowed away. But when Levi learns that Julia has been keeping a dark secret from everyone, he's not sure what to do.
AN AMISH FAMILY CHRISTMAS is Shelley Shepherd Gray's fourth book in her Charmed Amish Life Series. It is a delightful story about coming to terms with your past and moving forward with your life. Julia and Levi have let the past rule their lives, but have become stronger people for the issues they've been through. All of the supporting characters have been main characters in previous books, having their stories told about finding love. Ms. Gray does an excellent job of briefly weaving their stories into this one and having them help Julia and Levi find their way. Ms. Gray also incorporates helping single mothers and battered women into AN AMISH FAMILY CHRISTMAS. Yes, it happens in the Amish community too. If you're looking for a quick Christmas read, this one is charming.
SUMMARY
In Shelley Shepard Gray's fourth book in her Charmed Amish Life series, an unlikely Amish romance reveals that Christmas is a time for family, miracles—and love.
Ever since his father died in a tragic fire, Levi Kinsinger has felt adrift. Newly returned to Charm, Ohio, Levi is trying to fit into his old life, only to discover he seems to have outgrown it.
But when Julia, his young widowed neighbor, asks for his help with a Christmas project, Levi finds a sense of purpose for the first time in months. She and her daughter are new to Charm and could use a friend, a job Levi takes personally. Soon enough, friendship grows into attraction, but Levi can't help having doubts. There's something about Julia that doesn't ring quite true…
Like Levi, Julia Kemps has survived her fair share of hardships—but only by hiding the truth of her past. Being an unmarried mother in an Amish community was unthinkable. Feeling hopeless, Julia did the only thing she could do: she moved to a new town and pretended to be a widow. But meeting Levi, she's hopeful for the first time. Little by little, she begins to imagine telling him her darkest secret, and eventually…perhaps even sharing her life with him.
Christmas is a time for family, and as the holiday draws closer, Julia and Levi will have to face their pasts together…in order to find the healing, support and love they so desperately desire.
---
What do you think about this review?
Comments
No comments posted.

Registered users may leave comments.
Log in or register now!