"Investigative reporter Kate Page has a close personal connection to her latest assignment."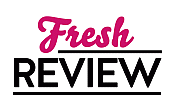 Reviewed by Tanzey Cutter
Posted January 10, 2015

Thriller Serial Killer | Thriller Crime
After her excellent reporting of and help in solving a child abduction case in Texas, investigative journalist Kate Page was promoted to Newslead's world headquarters in Manhattan, New York. It's here that she receives a call from a detective working a bizarre crime scene in upstate New York. An angel charm has been found among the ashes of a burned barn where a woman's remains were found. The charm fits the description on a report filed 20 years ago when Kate's sister, Vanessa, was washed away following a car accident in Canada. Vanessa was never found and Kate has been searching for her ever since. After seeing the charm, Kate knows it belongs to her long-lost sister because it's a perfect match for the one she wears every day.
Kate knows it's dangerous to get too close to this unusual case, even when DNA proves the corpse is not Vanessa, but it's hard to put her anguished emotions on hold. There has to be a connection with the present from somewhere in the past. Is there a chance that Vanessa is alive? Relentless in her pursuit of the truth, Kate follows dangerous leads, impressing authorities with her journalist probing. Strong emotions may cloud Kate's judgment, but what she uncovers is beyond anyone's imagination.
In FULL TILT, Rick Mofina meticulously develops an intricate and absorbing plot, leading to a chilling conclusion. Investigative journalist Kate Page (first introduced in WHIRLWIND) is a compelling protagonist involved in a high-stakes search for the truth. FULL TILT is another powerhouse thriller for the skillful Rick Mofina.
SUMMARY
Deep in the woods of upstate New York a woman flees a blazing barn. She is burned beyond recognition, and her dying words point police to a labyrinth of "confinement rooms" — rooms designed to hold human beings captive — where they make other chilling discoveries.
In Manhattan, Kate Page, a single mom and reporter with a newswire service, receives a heart-stopping call from a detective on the case. A guardian angel charm found at the scene fits the description of the one belonging to Kate's sister, Vanessa, who washed away after a car crash in a mountain river 20 years ago.
Kate has spent much of her life searching for the truth behind her little sister's disappearance. Now, a manhunt for a killer who's kept a collection of victims prisoner for years without detection becomes her final chance to either mourn Vanessa's death—or save her life.
---
What do you think about this review?
Comments
No comments posted.

Registered users may leave comments.
Log in or register now!