"Fans of contemporary romance will enjoy LUCKY BREAK."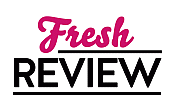 Reviewed by Maria Munoz
Posted October 29, 2012

Sidney Williams is a struggling actress living in LA just waiting for her lucky break. When she gets dumped by her boyfriend after he lands a movie deal, Sidney just can't take another day of disappointment and heads home to Shamrock Falls to find comfort from her Aunt Meg. Sidney left Shamrock Falls rather abruptly and has always regretted leaving behind her best friend and the boy-next-door, Kade Mitchell, without even a goodbye.
After years away, Kade is also back in town and the proud owner of Lucky's, the most popular bar in town. He's determined to put down roots and make the bar a success. He wasn't prepared for Sidney, the girl who broke his heart, to show up in Shamrock Falls after so many years. Kade doesn't trust Sidney or the instant reminder of how much he cared for her. Their attraction is powerful, but can either of them trust what they might have together?
Fans of contemporary romance will enjoy LUCKY BREAK. The relationship between Sidney and Kade is told in the present day and also with flashbacks back to their teenage years. Sidney and Kade clearly belong together and it's always enjoyable to see a couple find their way to each other.
SUMMARY
One lucky break is all struggling actress Sidney Williams needs. But when living the LA life becomes too much, she heads back to the small town of Shamrock Falls for the vacation she needs to get her life on track—and immediately runs into Kade Mitchell, her former best friend and the boy next door she's always regretted leaving behind.
Kade, the new owner of Lucky's—once the most popular bar in Shamrock Falls—is determined to bring the place back to its former glory, and seeing Sidney again is a distraction he doesn't need. Sure, the chemistry between them is explosive, but Kade can't let himself fall into a fling with his best friend—not when he knows she's soon heading back to the glitter of Tinseltown.
Now, with the possibility of her first major acting role looming, Sidney must decide if her lucky break is in Hollywood or right where she left it—in Shamrock Falls.
---
What do you think about this review?
Comments
No comments posted.

Registered users may leave comments.
Log in or register now!