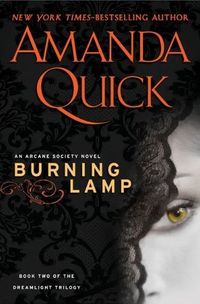 Burning Lamp, April 2010
Arcane Society #8 - Dreamlight Trilogy #2
by Amanda Quick

Putnam
Featuring: Adelaide Pyne; Griffin Winters
352 pages
ISBN: 0399156461
EAN: 9780399156465
Hardcover
Add to Wish List

Purchase
"Another suspenseful addition to the Arcane Society saga/Dreamlight trilogy set in the Victorian era."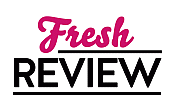 Reviewed by Tanzey Cutter
Posted March 14, 2010

Paranormal Romance | Mystery Arcane
The second installment in the Arcane Society series' Dreamlight Trilogy takes us to Victorian England where a descendant of Nicholas Winters believes he's inherited the foretold Winters Curse. Besieged with horrible nightmares and hallucinations, crime lord Griffin Winters must not only find the Burning Lamp, but a woman who can work its dreamlight energy in order to reverse the psychic madness of the curse. When he meets a social reformer intent on shutting down local brothels, he's amazed to find she has strong psychic powers. Could she be the one to help Griffin maintain his sanity?
As a young girl, Adelaide Pyne took possession of the Burning Lamp after surviving a disgusting encounter with an evil man who wanted to use her dreamlight power for nefarious reasons. Not knowing exactly what the unusual artifact was, Adelaide felt it must be important, so she's kept it hidden for the past 13 years. Upon meeting Griffin Winters, she now knows the lamp's significance and how it is to be used. But will the Burning Lamp's power heal or destroy Griffin? And what does fate have in store for these two unlikely lovers?
Ms. Quick continues the Dreamlight Trilogy with a mystical tale sure to please readers of the ongoing Arcane Society saga, which continually moves between time periods and locales. Next up for the Burning Lamp artifact is the futuristic world of Harmony, when the lamp's final mystery, the secret of the Midnight Crystal, will reveal itself.
SUMMARY
The Arcane Society was born in turmoil when the friendship of its two founders evolved into a fierce rivalry.
Sylvester Jones and Nicholas Winters each sought to enhance their individual psychic talents. Winters' efforts led to the creation of a device of unknown powers called the Burning Lamp. Each generation the Winters man who inherits it is destined to develop multiple talents—and the curse of madness.
Plagued by hallucinations and nightmares, notorious crime lord Griffin Winters is convinced he has been struck with the Winters Curse. And the instincts that have helped him survive the streets and rise to power are now drawing him toward Adelaide Pyne, the bothersome social reformer. But even as he arranges a meeting with the mysterious woman, he has no idea how closely their fates are bound, for Adelaide holds the Burning Lamp in her possession.
A dreamlight reader, Adelaide should be able to manipulate the Lamp's light to save both Griffin's sanity and his life. But their dangerous psychical experiment makes them the target of forces both inside and outside of the Arcane Society. And though desire strengthens their power their different lives will keep them apart—if death doesn't take them together.
---
What do you think about this review?
Comments
No comments posted.

Registered users may leave comments.
Log in or register now!