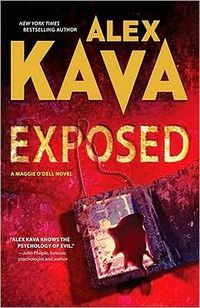 Exposed, October 2008
Maggie O'Dell mystery
by Alex Kava

MIRA
Featuring: Maggie O'Dell
320 pages
ISBN: 0778325571
EAN: 9780778325574
Hardcover
Add to Wish List

Purchase
"How do you expose a ruthless killer when you are in quarantine?"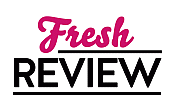 Reviewed by Lenore Howard
Posted September 15, 2008

Thriller Psychological | Suspense Techno
A seemingly innocuous box of donuts sent to Assistant Director Cunningham at Quantico's FBI offices leads to a nightmare for him and Agent Maggie O'Dell, who's with him when he finds the threatening note inside. The note gives a time and place that a "crash" is supposed to happen. When the agents arrive at the location, they do not find the bomb they suspected, but a deadly virus, whose victim is, indeed, crashing. Now Cunningham and O'Dell have likely become infected as well. Locked in a quarantined location, feeling like a lab rat, Maggie copes with her fear and claustrophobia by working through what she knows about the case. Maggie's partner, R. J. Tully, who was late to work the day the donuts arrived, investigates on the outside.
Meanwhile, people in random locations are receiving mysterious packages of money and falling ill after handling the bills. The only connections among the victims seem to be names and places that were involved in notorious crimes of the past, such as the Unabomber and the Anthrax Killer. This clever new criminal leaves no other clues as to whom or where he will strike next, which could cause mass panic across the country. But the FBI agents and medical officials know that if they can't stop this killer, panic will be the least of their problems.
This riveting suspense story is made more powerful by the references to previous crimes, because they remind readers that no one is safe in today's world. Not only do we follow the FBI and military scientists as they race to catch a killer, but because Maggie is possibly infected, we get a close-up look at what she's going through as well. The short chapters that focus on what's happening to one or two characters lend an air of urgency to the story. While I was reasonably sure that Maggie would survive -- she's the heroine, after all -- the idea of someone being able to strike so randomly and with such a horrible weapon was chilling and kept the tension high. This book should be sure to please fans of the series and will probably bring in some new ones.
Learn more about Exposed
SUMMARY
Agent Maggie O'Dell and Assistant Director Cunningham believe they're responding to a threat made at Quantico. Instead they walk into a trap. Before they realize it, they've both been exposed to a killer who can strike at anyone, at any time, and no one can predict who might be next…until it's too late. The killer's tactics suggest he's an aficionado of criminal minds. He uses bits and pieces from those he admires: a phrase from the Beltway Snipers, a clue from the Unabomber, a delivery method similar to the Anthrax Killer. His weapon is a deadly virus, virtually invisible and totally unexpected. His victims appear to be random but, in fact, they are chosen with a revengeful precision. The vaccine is limited and untested.
Maggie knows dangerous minds—from hauntingly perverse child predators to cunningly twisted serial killers. Now she faces a new opponent from inside an isolation ward at a biosafety containment hospital. Maggie must help Agent R. J. Tully find clues to catch the killer—while waiting to see if the deadly strain is already multiplying in her body. With every new exposure there's the potential for an epidemic. And Maggie knows she and Cunningham may not live long enough to discover who is the deadliest, most intelligent killer they've ever profiled.
---
What do you think about this review?
Comments
No comments posted.

Registered users may leave comments.
Log in or register now!