It's that time of year when weddings abound. Fab author Gayle Trent offers one lucky person a chance to win a signed copy of KILLER WEDDING CAKE and a $20 bookseller gift card for Amazon, Barnes and Noble or Books A Million. Her story of the challenges of love and the mysteries of murder will keep you up all night reading. To enter, go to Gayle's website, read the excerpt and come back here to answer the question below and enter!
Daphne Martin's wedding to Ben Jacobs is only a couple of weeks away. An award-winning cake decorator, Daphne is busy designing their wedding cake. Her twin nephew and niece, Lucas and Leslie, are excited about being in the wedding party. And Daphne's brother-in-law Jason is planning a bachelor party for Ben. Everything is going beautifully until Daphne's ex-husband Todd shows up. Just released from prison after serving a sentence based on his shooting a gun at Daphne, Todd comes to Brea Ridge to profess his undying love for her.

Despite Daphne's attempts to make Todd leave town, he insists on hanging around to reconnect with people he used to know. When he's found murdered, Daphne finds herself at the center of the investigation. Now she must tract down Todd's killer before she becomes the next victim. Can she still make it to the church on time?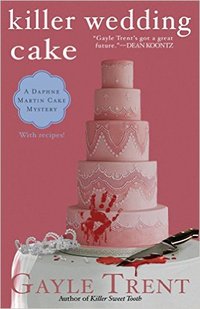 Buy KILLER WEDDING CAKE