Win a $10 Amazon gift card for summer beach reading!
We wind up on the beach at the end of THREE CHRISTMASES but go on a fun, sexy, and obstacle-filled adventure through the entire BEST OF 2014 No Weddings series by Kat Bastion and Stone Bastion to get there.
Help Cade and Hannah rewrite June to be the NO WEDDINGS Month!
FREE START TO YOUR NO WEDDINGS SUMMER BEACH READING:
June 15th is the last day NO WEDDINGS is free and the three additional novels are at $3.99 levels before all four titles go to their permanent pricing of $4.99.
No Weddings Series:
NO WEDDINGS
ONE FUNERAL
TWO BAR MITZVAHS
THREE CHRISTMASES
FOR VALENTINE'S

Take advantage of the celebratory pricing and grab your digital copies today!
Your entry also subscribes you to Kat & Stone Bastion's new-release email list.
One lucky subscriber will win an eBook of their choice from our backlist AND a $10 Amazon or B&N Gift Card each time we send out a preorder or new-release announcement.
(We solemnly promise to email only a handful of times a year to announce preorders and new releases.)
Award-winning author Kat Bastion teams with her husband, Stone Bastion, in this first book in the No Weddings Series about Cade Michaelson, a successful man with his sights set on a new venture in business, and Hannah Martin, the woman who makes it personal.

I think I have my act together as a successful bar owner, my master's degree within reach, and a list of no-strings-attached women warming my bed. Turns out, I don't.

Hannah believes she has safeguarded her wounded heart by shunning men and focusing on her new baking business. The thing is, she hasn't.

When my three sisters and I start a new event-planning business with Hannah as our baker, I have no idea how my life is about to change. As Hannah and I work closely together, the attraction between us becomes irresistible. And complicated. I've promised my sisters I wouldn't mix business with pleasure. But I've never been one to follow the rules.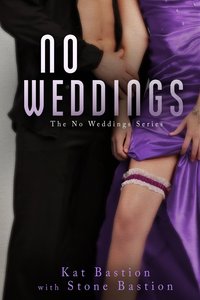 Buy NO WEDDINGS