Things might be getting frosty outside...But baby, it's hot inside...THREE CHRISTMASES.
Heat your holidays to scorching with the stunning conclusion of the No Weddings Series. 4.9 of 5 stars on Amazon. And to celebrate the new release of THREE CHRISTMASES, Kat and Stone offering a chance to win a $25 Amazon or Barnes & Noble gift card plus a signed copy of THREE CHRISTMASES.
The No Weddings series was just fabulous. I loved every moment of it... ~ The Smutsonian
I love Kat & Stone's writing style...Three Christmases is a decadently rich reading experience. ~ TJLovesToRead
I love this series, can't get enough of Cade and Hannah. ~ JB's Book Obsession
As the holiday season approaches in this fourth book in the No Weddings Series, Cade Michaelson strives to be better at balancing work and love, and Hannah Martin's growing ability to trust is put to the test.

Lust and friendship brought us together, but with the increasing demands of my two businesses, Hannah's thriving bakery, and our successful event-planning company, stability becomes my focus. Then a once-in-a-lifetime career opportunity takes me to the West Coast, and everything goes into a tailspin.

Laughter, love, and excitement fill our lives, but Cade refuses to settle into the wonderful bliss we've found—he wants spectacular fireworks and an unshakable foundation. Driven like no one I've ever met, Cade insists a dream job across the country will be better for our future together, but I worry about whether we can survive the present apart.

When intimate time diminishes…and lives get more hectic…

Will a little bit of faith be all that it takes? Or will the sacrifice to get there be too great?



*** PLEASE NOTE ***
Scorching (explicit) sex scenes.
Fire extinguisher highly recommended.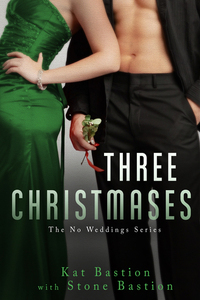 Buy THREE CHRISTMASES