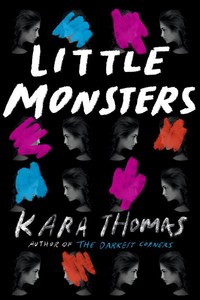 Delacorte Press
August 2017
On Sale: July 25, 2017
336 pages
ISBN: 0553521497
EAN: 9780553521498
Kindle: B01M4PV4I2
Hardcover / e-Book
Add to Wish List

For fans of Pretty Little Liars, Little Monsters is a new psychological thriller, from the author of The Darkest Corners, about appearances versus reality and the power of manipulation amongst teenage girls.
Kacey is the new girl in Broken Falls. When she moved in with her father, she stepped into a brand-new life. A life with a stepbrother, a stepmother, and strangest of all, an adoring younger half sister.
Kacey's new life is eerily charming compared with the wild highs and lows of the old one she lived with her volatile mother. And everyone is so nice in Broken Falls—she's even been welcomed into a tight new circle of friends. Bailey and Jade invite her to do everything with them.
Which is why it's so odd when they start acting distant. And when they don't invite her to the biggest party of the year, it doesn't exactly feel like an accident.
But Kacey will never be able to ask, because Bailey never makes it home from that party. Suddenly, Broken Falls doesn't seem so welcoming after all—especially once everyone starts looking to the new girl for answers.
Kacey is about to learn some very important lessons: Sometimes appearances can be deceiving. Sometimes when you're the new girl, you shouldn't trust anyone.
Start Reading LITTLE MONSTERS Now

Our Past Week of Fresh Picks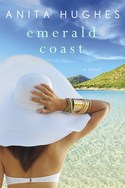 EMERALD COAST
by Anita Hughes
Featured as Fresh Pick on October 20, 2017
Lily Bristol arrives at a luxurious resort in Sardinia for the grand opening of her newest home furnishing store on the Emerald Coast. She's Read More »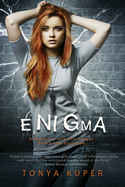 ENIGMA
by Tonya Kuper
Featured as Fresh Pick on October 19, 2017
#SupernaturalThursday
Worst. Road Trip. Ever. Escaping with Reid Wentworth should have been fun, but how can I enjoy it when I just (accidentally) killed someone, my Read More »

A Sci-Fi lovers dream! Filled with romance, action and deception!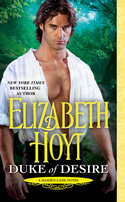 DUKE OF DESIRE
by Elizabeth Hoyt
Featured as Fresh Pick on October 18, 2017
#HistoricalWednesday
A LADY OF LIGHT Refined, kind, and intelligent, Lady Iris Jordan finds herself the unlikely target of a diabolical kidnapping. Her captors are the notoriously Read More »

Dark and crackling with sexual tension, a splendid conclusion to an outstanding series!

Quite Possibly the Best Yet in the Maiden Lane novels
ONE SUMMER NIGHT
by Caridad Pineiro
Featured as Fresh Pick on October 17, 2017
#romanceTuesday
Maggie Sinclair has tried everything to save her family's business. Her options are dwindling, and she needs someone who can turn things around― Read More »

Hot, sexy, and refreshing... contemporary romance at it's best!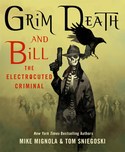 GRIM DEATH AND BILL THE ELECTROCUTED CRIMINAL
by Mike Mignola, Thomas E. Sniegoski
Featured as Fresh Pick on October 16, 2017
#Halloween and ghosts
An uneasiness festers upon the city streets, threatening the peace and safety of law-abiding citizens. A war is escalating, and it seems as though Read More »

Crime has gotten out of hand and one man is determined to stop it.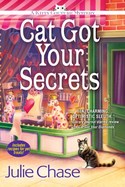 CAT GOT YOUR SECRETS
by Julie Chase
Featured as Fresh Pick on October 15, 2017
Lacy Marie Crocker has settled into a comfortable groove back home in New Orleans, and with Valentine's Day right around the corner, she's Read More »

From dressing pets to sleuthing, Lacy is kept busy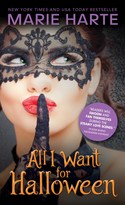 ALL I WANT FOR HALLOWEEN
by Marie Harte
Featured as Fresh Pick on October 14, 2017
#HalloweenCountdown
TONIGHT, SHE PLANS TO LET GO. Dressed up and anonymous, Sadie Liberato feels powerful, sexy and free. Where better to lose herself than a masked Read More »

Full of tricks, treats, and true love!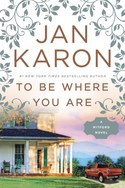 TO BE WHERE YOU ARE
by Jan Karon
Featured as Fresh Pick on October 13, 2017
#Faith&Family
#1 New York Times bestselling author Jan Karon returns with the fourteenth novel in the beloved Mitford series, featuring three generations of Kavanaghs. After twelve Read More »