J.A. Kazimer | Words & Whiskey: The Perfect Blend

April 8, 2019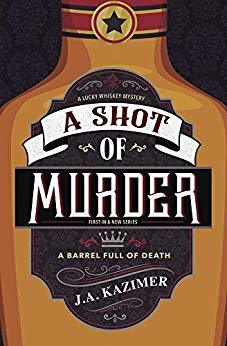 AVAILABLE
A Lucky Whiskey Mystery #1

June 2019
On Sale: June 8, 2019
312 pages
ISBN: 0738760072
EAN: 9780738760070
Kindle: B07HL27PKY
e-Book
Add to Wish List
Add to review list

Also by J.A. Kazimer:
A Shot of Murder, June 2019
Add to review list
The Assassin's Kiss, August 2016
The Fairyland Murders, December 2014
The Assassin's Heart, March 2014

One wouldn't think books and whiskey easily blend. But they do. In ways, I surely never imagined when I started researching whiskey for my Lucky Whiskey series. The first book, A SHOT OF MURDER: A Lucky Whiskey Mystery, drops on June 8 th.
So raise a glass and read on.
Both whiskey and books start with humble beginnings - Whiskey starts its life as beer and books start, at least for me, as half-form, often unpalatable ideas, that, like beer are foul and need to be changed into something infinitely better. Â 
Both whiskey (Irish spelling) or whisky (Scottish/Canadian spelling) are grammatically correct, though the whiskey should be used as whisky looks like the writer is just drunk, much like the ridiculous use of gray (American spelling) when it should clearly be grey (British spelling). I mean, just look at it!
Both whiskey and words must watch out for sneaky thieves – With whiskey, nearly 2% of a barrel is stolen by angels each year in what is referred to as The Angel's Share, which is about the same amount of books stolen from libraries a year. Oddly, the most pilfered book is the Guinness Book of World Records.
Both whiskey and books take a while to age. Whiskey is stored for 3 years, at least, before it hits the shelves, books take about the same from conception to a bookstore. More for me. I type really, painfully slow. That sentence alone took me nearly twenty minutes. Speaking of sentences, the longest one ever written is 823 words in Les Miserables.
Both whiskey and books have a name for people who love the smell of each – Bibliosmia for books and J.A. Kazimer for whiskey.
Both whiskey and word consumption prevents death. Whiskey is known to prevent some cancers and other diseases, while reading keeps people from killing other people. At least it does for me. I would've been jailed long ago without books.
I did find a few more glorious facts about both books and whiskey while doing research. Facts that you NEED to know for your own self- preservation.
People in Iceland read the most of all countries. You'd think they'd also drink the most whiskey considering the average temperature doesn't go above 60 degrees (F) all year. But that honor goes to one of the hottest places on Earth, India, with 1.5 billion liters of whiskey consumed a year on average.
Whiskey is a basic ingredient in Tabasco sauce. The very idea is an insult to my taste buds.
68% of books are purchased by women (yay!), and a heck of a lot of us drink whiskey. Want proof (pun intended as I love a good pun, or a bad pun, or really, any pun)? Just look at the new marketing for whiskey targeting females that often falls short - Jane Walker (it is the same whiskey as Johnnie Walker but with a woman on the label. Lame, I know). Â 
Whiskey is the state beverage (yes, that's a thing) of Alabama.
Mountain Dew was solely created to be a whiskey chaser, which, honestly is a bigger sin then mixing whiskey with diet coke. Sort of like mixing Harry Potter with Fifty Shades of Grey (I had the idea first, so no stealing it!)
And, finally, my favorite factoids – The name whiskey came from the Gaelic language (uisge beath ) meaning 'water of life'. And even better, the word nerd was invented by Dr. Seuss in his 1950 book, "If I Ran the Zoo". My only goal in life is to craft a word as perfect as NERD.
I hope you've enjoyed the sometimes bizarre pairings of whiskey and words as much as I enjoyed researching them, except without the hangovers. So many hangovers. That's what I get for chasing good whiskey with Mountain Dew….
I'd love to hear about your favorite whiskey brand. And please share any random fact you might have about books or booze. Who knows what sort of research I'll need for my next book.
Comment to Win: A set of Dragon Whiskey Tumblers and a digital copy of A SHOT OF MURDER, A Lucky Whiskey Mystery.
And don't forget to sign up for J.A. Kazimer's THIS LITTLE PIGGY WENT TO MURDER Readers' Group
A Lucky Whiskey Mystery #1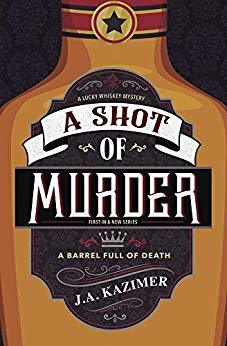 When it comes to murder, sometimes it's better to be lucky than good.
Ten years after leaving the small town of Gett, Florida, for Hollywood stardom, Charlotte "Charms" Lucky, who has never quite lived up to her surname, returns home to run the Lucky Whiskey distillery while her grandfather recovers from a heart attack.
Making whiskey is harder than Charlotte imagined, especially with longtime rivals and resentful townsfolk interfering at every turn. She'll need more than a lucky charm to keep the family afloat, after she discovers her former high school boyfriend's pickled corpse in a Lucky Whiskey cask, and her grandfather is arrested for the murder.
Charlotte has one shot to clear his name and save the family business, and that is to find the real killer among a town full of suspects.
Mystery Cozy | Mystery Amateur Sleuth | Mystery Culinary [Midnight Ink, On Sale: June 8, 2019, e-Book, ISBN: 9780738760070 / ]
Originally from Cleveland, Ohio, j.a. left at a young age, and now lives and writes in Denver, Colorado. J.A. Kazimer holds a master's degree in forensic psychology, and has worked as a PI, bartender, and most recently at the Jack Kerouac School of Disembodied Poetics.
Comments
32 comments posted.
Re: J.A. Kazimer | Words & Whiskey: The Perfect Blend

My favorite whiskey is Johnny Walker Black, neat. And I definitely think that whiskey goes very well with reading. At least it has worked very nicely for me.
(Mary Songer 3:54pm April 8)
If it's not coffee and throw blanket it's a few shots of
whiskey with a good book. Definitely have to read yours!
(Jesse Mendez 6:51pm April 8)
sounds interesting
(Margo Beredjiklian 8:45am April 9)
Very interesting post. I hope your books contain the same sense of
humor and snarky attitude this post did. We live in Tennessee. The
home of Mountain Dew and Jack Daniels.I was a librarian for years
at a small county library. The books most stolen here have to do
with witch craft (for private collections) and books like Harry Potter
and those on evolution ( censorship by theft). We replaced Harry
Potter Book One 10 times and had many complaints about
indoctrinating the children in Satan's ways. They also complained
about graphic novels. How dare we put graphic things on the
shelves for young people. Of course they had no idea what graphic
novels were.
Anyway, my favorite whiskey is Bushmill's Irish Whiskey. I love to fix
Irish coffee.
A SHOT OF MURDER sounds good, but I do prefer my whiskey
without the added ingredient found in theirs.
(Patricia Barraclough 6:44pm April 9)
I have to admit...7 & 7. Seagram's Seven Crown and 7 Up.
(Candy Voisine 8:32pm April 9)
Your blog is interesting.
(Anna Speed 1:43am April 10)
Sounds like a great read
(Danielle McDonald 1:34pm April 10)
LOVE IT!
(Karen Banuga 1:41pm April 10)
Sounds like a great read can't wait to read this book.
(Nancy Burgess 1:53pm April 10)
My favorite Whiskey is Jack Daniels and I would love to win
the glasses & book!
(Sally Scully 2:03pm April 10)
My favorite is Jack Daniels but that is a lot of info on Whiskey
(Shelly Garnett 2:17pm April 10)
What an interesting and eye-opening article. I
even learned a new word which I am thrilled to
add to my vocabulary. That word is
"Bibliosmia."
I agree with many things stated in this
article, however, being Canadian, I have to
agree to disagree with the spelling of the
word whisky. It doesn't need the extra "e".
(Amie Gaudet 2:22pm April 10)
Oops, I forgot to mention my favorite brand of
whisky. It is "CC" which stands for "Canadian
Club"
Here are a few random facts for your next few
books:
1. 1. The world's first UFO landing pad was
built in 1967 in Alberta, Canada
2. Canada has more lakes than all other
countries combined.
3. Over 75% percent of the world's maple syrup
comes from Quebec
4. Basketball was invented in Canada.
5. License plates in the Northwest Territories
and Nunavut are shaped like polar bears.
6. Hawaiian pizza was actually invented in
Ontario, Canada.
7. 80% of all alcohol consumed in Canada is
beer.
8. Canada is the exclusive home to the
flavored potato chips: ketchup and all
dressed.
(Amie Gaudet 2:30pm April 10)
Loved the wacky humor! Single malt Highland Scotch,
preferably Glenmorangie Lasanta. Dalmore or Dalwhinnie are
also good.
(Karen Krack 2:33pm April 10)
To determine my favorite whiskey brand, I would have to mix whiskies up with a
lot of ginger ale, a lot of fruit (pineapple and/or cherries?), a lot of crushed ice,
and then top it with a little paper umbrella.
(John Smith 2:36pm April 10)
Awesome
(Marissa Yip-Young 2:46pm April 10)
I have tried Whiskey a few years ago. It is something that is very smooth if you get the right kind. Look forward to reading this book
(Cynthia St. Germain 4:48pm April 10)
Well, my favorite whisky is Canadian Club, while my
favorite whiskey is Tullamore Dew.
(Deb Philippon 4:52pm April 10)
I've always drank Jack Daniel's Whisky and either 7up,
Gingerale, or Mountain Dew! Love the post and comments with all the surge of mixed drinks! A Shot Of Murder sounds like
a great cozy read for the summer, especially with a mixed
drink while reading!
(Rebecca Booth 5:32pm April 10)
sounds like an interesting book - funny you are from Ohio -
my family all lives there (I do not) and I want to move to
Colorado - which I love - I've also been a bartender - you
learn alot about people
(Vickie Dailey 7:34pm April 10)
A Shot Murder sounds like a very interesting read.
I will be reading it
Thanks for the chance to win.
(Cathy Truman 9:59pm April 10)
Sounds like a interesting read, I am a avid reader lol but not much a drinker.
(Margaret Yelton 3:36am April 11)
Can't wait to read your book.....Sounds Amazing! And of
course, with a few shots of Jack Daniel's! Also, as far
as whiskey being the state beverage of Alabama, it truly
is! My family is from there and it's a "Must Have" on a
daily basis! Whiskey helps in so many ways and I think
reading books and drinking a few shots make the Perfect
combination!
(Sharon Hickman 10:30am April 11)
I'm not a whiskey drinker but I love a good book so I'm your girl. I have never met a library I couldn't enjoy.
(Joanne Quarz 3:16pm April 11)
I love reading
(Jean Craven 5:41pm April 11)
I love this post! I'm not much of a whiskey drinker but I
do love a good Bloody Mary. Thanks for the chance!
(Jaime Minter 7:36pm April 11)
Thoroughly enjoyed your post. My favorite whiskey is Lagavulin. Am afraid
I have no facts to share but chuckled over several of the ones you jotted
down.
(G. Bisbjerg 11:41pm April 11)
Not a whiskey drinker, prefer UV & lemonade. But thank you for the chance to win
(Jill Burgus 10:10am April 12)
I love to read so much! I can't say I drink a lot but a nice glass of whiskey sounds
great.
(Monica Valencia 10:42am April 12)
I am looking forward to reading your
book! My favorite whiskey for now is
Apple Crown, but I am always up to
trying new brands.
(Kim Lynn 1:40pm April 12)
used to drink a lot of whiskey. Am more of a wine drinker now
(Johnna Smith 3:41pm April 12)
I like the idea of researching whiskey! Sounds like you had
a grand time researching and writing this one.
(Vanessa Primer 2:14am April 17)
Registered users may leave comments.
Log in or register now!