Dylann Crush | Happy Holidays from Holiday, Texas!

October 30, 2018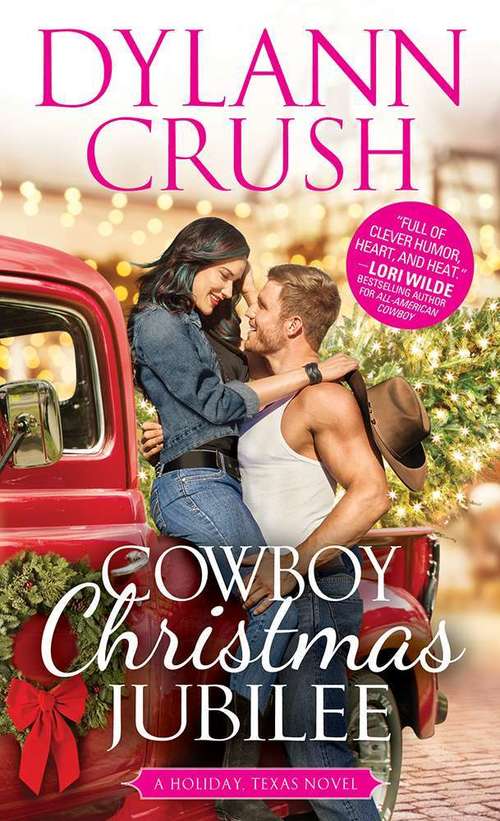 Cowboy Christmas Jubilee
Dylann Crush
AVAILABLE
Holiday, Texas Book 2

October 2018
On Sale: October 30, 2018
Featuring: Jinx Jacobs; Cash Walker
ISBN: 149266264X
EAN: 9781492662648
Kindle: B07FGFYZK4
Paperback / e-Book
Add to Wish List

Also by Dylann Crush:
Cowboy Christmas Jubilee, October 2018
All-American Cowboy, July 2018

Happy Holidays from Holiday, Texas! The little town of Holiday doesn't need much of a reason to throw a party. With a name like Holiday, every day is a celebration! But when it comes to Christmas, like most of their fellow Texans, they tend to go all out.
Folks living in the state of Texas definitely have their share of holiday traditions. From the lighted boat parade at the Harbor Lights Festival in Corpus Christi to the festive twenty-six-foot weihnachtspyramide in Fredericksburg, some towns go Christmas crazy! And we haven't even talked about the food yet. If you celebrate Christmas in Texas you'll be just as likely to eat tamales or brisket as you are to chow down on a deep-fried turkey.
Small towns, in particular, are a special place to spend the holidays, especially in the Hill Country of Texas. There's nothing like strolling down Main Street, cup of wassail in hand, peeking in all of the shop windows as you go. If you'd rather ride, you can head to Bandera and go Christmas caroling on horseback. In Lockhart, you can rub elbows with carolers in period costumes during their annual Dickens' Christmas. And if you're in Gruene, Texas, you might catch a glimpse of Cowboy Kringle riding into town.
In Cowboy Christmas Jubilee you'll get to experience some of the quirky, fun and crazy traditions they celebrate in Holiday, Texas. They kick off the season with the Turkey Trotter on Thanksgiving Day. Teams of four race around, perform different stunts and then try to be the first ones across the finish line. The past seven years have seen a Walker brother on the winning team. You'll have to check in to see if the streak continues once Jinx arrives.
The elementary school always puts on a Christmas production, although most years it's not scheduled on the same night as the live nativity at the church next door. The kids can always count on Kermit to step into the role of Santa Claus for the annual breakfast with Santa. Even though he doesn't leave his Christmas tree farm very often, he does look forward to venturing into town to pose as jolly old Saint Nick.
Visitors to Holiday ought to be aware of the Kissmas Cam. Sprigs of Mistletoe hang all over town. Those who indulge in a smooch might just find themselves broadcast on the big screen in the square at the annual tree lighting. The ceremony is part of the Jingle Bell Jamboree where the whole town gathers for Christmas carols, fun activities like the Make It Before It Melts Snowman contest and a cup of cocoa.
I can't tell you about all of the fun—I don't want to spoil the story. But if you enjoy small-town charm, spending time with family and friends, and unexpected surprises that will warm the chill right out of those cold winter nights, I hope you'll visit Holiday, Texas in the pages of Cowboy Christmas Jubilee!
Holiday, Texas Book 2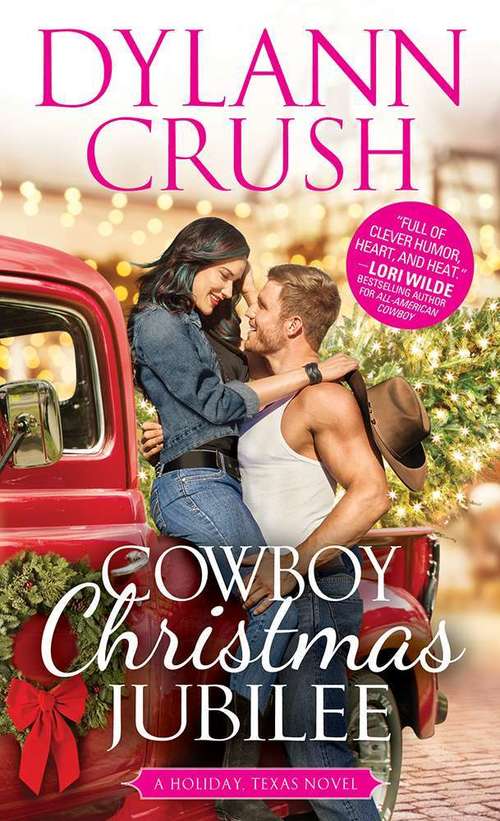 Merry Christmas from your new friends in Holiday, Texas: The most celebratory town in the South!
When Jinx Jacobs's motorcycle breaks down outside Holiday, Texas, the last thing she wants is to get stuck in the cheery little town, especially during the holidays. The whole place has gone Christmas crazy, but all she has to do is stay out from under the mistletoe—and do her best to keep that unnervingly attractive cop off her back.
Single dad and sheriff's deputy Cash Walker doesn't have time for romance, and yet something about the tempting loner twists his stomach up tighter than a tangle of tinsel. He may have finally found the missing piece in his life...but with Jinx so determined to avoid putting down roots, convincing her to stay may just take a Christmas miracle.
Holiday, Texas Series: All-American Cowboy (Book 1) Cowboy Christmas Jubilee (Book 2)
Romance Contemporary [Sourcebooks Casablanca, On Sale: October 30, 2018, Paperback / e-Book, ISBN: 9781492662648 / ]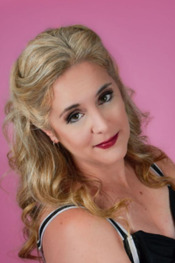 Dylann Crush writes contemporary romance with sizzle and sass. A romantic at heart, she loves her heroines spunky and her heroes super sexy. When she's not dreaming up steamy storylines, she can be found sipping a margarita and searching for the best Tex-Mex food in Minnesota.
Although she grew up in Texas, she currently lives in a suburb of Minneapolis/St. Paul with her unflappable husband, three energetic kids, a clumsy Great Dane, a rescue mutt, and a very chill cat. She loves to connect with readers, other authors and fans of tequila.
Comments
30 comments posted.
Re: Dylann Crush | Happy Holidays from Holiday, Texas!

Sounds totally delicious. I'm such a pushover for a
holiday story! Thanks for the opportunity!
(Marcia Berbeza 2:07am October 30)
that looks and sounds like such a good book
(Vickie Couturier 5:31am October 30)
Okay! I am hooked! This sounds delightful and I've
experienced what you've described!
(Kathleen Bylsma 5:22pm October 30)
I love Christmas books. Thank you for the chance!
(Barbara Ryan 5:59pm October 30)
Looks great and love the cover!
(Jaime Minter 6:41pm October 30)
When we lived in TX we spent a lot of time in Bandera. We loved it there. This sounds like a great read.
Thanks!
(Rochelle Cook 7:29pm October 30)
We're Great Dane lovers in my house, too! My Gracie is
sleeping by my feet as I'm typing. Thanks for the chance!!
(Missy Roth 11:19pm October 30)
My oldest daughter is starting traditions for the holidays
in her new home in Texas. Her son will be a year and a
half in December and likes to run and take things apart.
(Alyson Widen 11:44pm October 30)
My oldest daughter is starting traditions for the holidays
in her new home in Texas. Her son will be a year and a
half in December and likes to run and take things apart.
(Alyson Widen 11:44pm October 30)
Sounds like a fantastic story. Thanks for the chance to win.
(Nancy Reynolds 9:32am October 31)
I like these two characters. Their story will be an
interesting one to read!
(Andrea McParland 11:58am October 31)
Congratulations on your new release! I love the cover and synopsis. This is a definite must read for me!
(Bea LaRocca 12:29pm October 31)
I love reading Christmas romances or mysteries usually starting in
November and I leave them all out on a table for family and friends to
borrow. Christmas is my favorite holiday because of great memories from
when I was a child, when my 2 sons were little and now I have 2 grandsons
to love on, spoil and pass Christmas traditions. Am so very anxious to read
Cowboy Christmas Jubilee to add to my collection.
(Denise Walsh 1:58pm October 31)
This books looks and sounds like something I will seriously enjoy
(Renee Collins 4:50pm October 31)
Love cover and LOVE cowboys!!!
(Jennifer Beck 10:02pm October 31)
This story sounds like it incorporates some of my favorite story elements. The small towns in their own way become characters in the stories. The West is a special place which gives certain characteristics to the people who are born and live there. Thirdly, Christmas. There is just something special about that time of the year. It gives a certain air that promises more and that things will be better.
(Patricia Barraclough 1:27am November 1)
sounds very interesting,i love reading books expically
Christmas ones
(Vickie Couturier 9:44am November 1)
I love Christmas Novels as much or if not more than Christmas on
Hallmark. Super excited! Can't wait to read
(Vicki Gollnisch 12:43pm November 1)
Sounds wonderful!
(Colleen Conklin 1:35pm November 1)
What a gorgeous cover! Can't wait to read it!
(Maria Proctor 4:04pm November 1)
Sounds great!
(Tracy Fritts 2:22am November 2)
heu
(Vir Singh 3:19am November 2)
Just love Christmas books
(Denise Schenk 11:39am November 2)
Christmas miracles --- Just what is needed. It sounds like a good book for me to read. Thanks for the sweeps.
(Anna Speed 5:06pm November 2)
As far as I am concerned, any time is a good time to read a Christmas romance. I
am looking forward to reading Cowboy Christmas Jubilee.
(Kt C 10:22pm November 2)
Sounds like a good book to me.
(Melanie Rosen 12:06pm November 3)
Love stories set in small towns
(Melinda Marks 12:11pm November 3)
Christmas is amazing. I love stories featuring Christmas.
(Debra Guyette 6:21am November 3)
I love small towns and reading Christmas novels each year.
Thank you for the giveaway.
(Nancy Wolfe 10:59am November 4)
I want to live in Holiday, Texas. I'm looking forward to
reading this story.
(Mary Songer 2:56pm November 4)
Registered users may leave comments.
Log in or register now!