Kari Lynn Dell | Difficult Pasts Lead to a Happy Ever After: Ambitions, Dreams, and Overcoming Adversity

September 25, 2018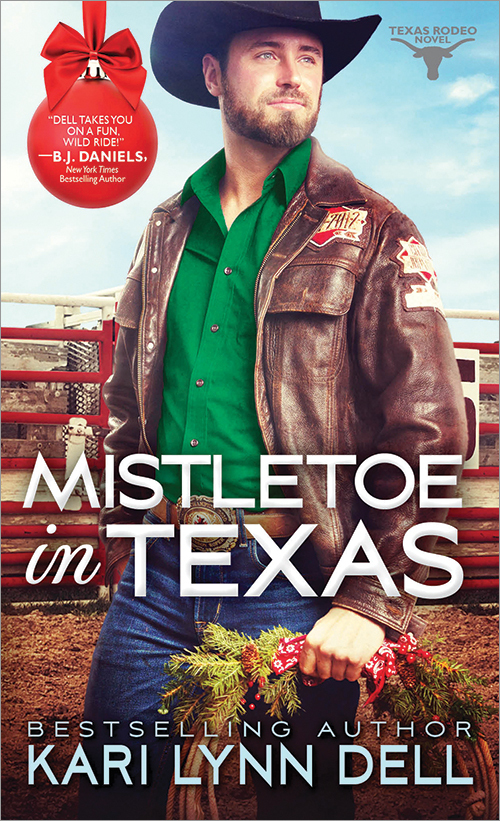 Mistletoe in Texas
Kari Lynn Dell
AVAILABLE

October 2018
On Sale: September 25, 2018
Featuring: Grace McKenna; Hank Brookman
480 pages
ISBN: 1492658146
EAN: 9781492658146
Mass Market Paperback
Add to Wish List

Also by Kari Lynn Dell:
Last Chance Rodeo, August 2019
Mistletoe in Texas, October 2018
Fearless in Texas, April 2018
Tougher in Texas, August 2017

For about the first ten years of my writing career, I collected rejection slips like normal people collect photos from their family vacations, souvenirs of an extended stay in an alternate reality. Most of those nopes had a distinct theme: love your writing, love the rodeo action, but your characters are just too nice.
Or as one editor told my agent, "She needs to rough them up."
I am embarrassed to say that I resisted for a very long time. I wanted my heroes and heroines to be smart and sensible, someone I'd like for a friend. I didn't want to let them make dumb mistakes and bad decisions. But finally I realized that even smart people do dumb things. Life inflicts damage on pretty much everyone, and none of us is as together as we'd like the world to think. As Grace McKenna tells Hank Brookman in Mistletoe in Texas when he complains that his brother-in-law is too perfect, "Wyatt is as much of a mess as all the rest of us. He just looks better doing it."
But why are we so drawn to flawed characters?
The easy answer is that the harder the battle, the more satisfying the victory, and we all love an underdog. As a rodeo contestant, the trophies I treasure most are those won by overcoming not only the stiffest competition, but my own doubts and insecurities. To win when you're expected to win is nice. To perform brilliantly when the odds are stacked against you is a thrill like no other.
But if we dig a little deeper, I think we identify with the less- than-perfect because most of us are underdogs in some way. Especially if we're female. If our faces and bodies don't conform to rigid standards of beauty. If we're too ambitious, or we raise our voices too often, or we've had the audacity to take chances and make mistakes.
In other words, if we don't fit between the very straight, very white lines that have defined the world of romantic fiction for far too long.
In every book, I set out to challenge those limits. To show that yes, in Reckless in Texas Violet Jacobs can be a single mother and a hard-nosed businesswoman and a cowgirl, tall and strong and what your mama would call big-boned, and expect to find a man who admires those things about her. That Tori in Tangled in Texas can demand a life partner who isn't intimidated or diminished by a woman who is brilliant and driven and sometimes single-minded beyond a fault. That Shawnee in Tougher in Texas shouldn't learn to be quieter or less outrageous or more biddable. She just needs a man who can handle her exactly the way she is. That Melanie in Fearless in Texas can declare war on the good ol' boys club and expect full and unconditional support from her friends and family, the hell with anyone who tries to tell her to hush up and play nice.
And in Mistletoe in Texas, Grace McKenna can choose to opt out of the traditional role of motherhood and not be less of a woman.
I never thought I'd write a secret baby book. It isn't one of my preferred romance tropes. Then Grace stepped quietly onto the pages as a secondary character in Fearless in Texas and I found myself wondering under what circumstances could I see myself keeping a child's existence from its father. How high would the stakes have to be, and what exactly would I have to have to lose to justify that silence? It couldn't be for money, or for career. In the end, there were only two reasons I could live with: family or the welfare of the child.
And so Grace became a woman raised in the cult of extreme conservative Christianity, whose decision to give up her daughter would mean being cast out by her father and, most importantly, banned from contact with the younger brothers who she aids and abets in their resistance to indoctrination. When she finds herself pregnant with Hank's baby—a man who has proven time and again throughout the Texas Rodeo series that he can't be trusted with anyone's secrets, including his own, and who seems bent on destroying his career and possibly himself—Grace makes what she feels is the best choice for all of them.
But she knows the day of reckoning will come. Hers is a secret with a built-in expiration date. She's prepared to deal with Hank's outrage, his pain, his anger. She believes she has earned them all. What she never anticipated was acceptance. Or love.
Before she can achieve her happily-ever-after, though, Grace has to persuade the harshest critic of all that she deserves it—herself.
And so it is with everyone I know. We are constantly bombarded with reasons we don't measure up—by society, by the media, all too often by the people closest to us under the guise of being helpful. We are trained to focus on our faults instead of our strengths, and we fall into unsatisfying, damaging or dangerous relationships because we've been persuaded it's the best we can expect.
I write women who aren't perfect, who don't conform, who make mistakes and have major flaws because that's who we all are underneath. In the process, I hope to smash the myth that only a certain kind of person has the right to demand happiness, and convince my readers that we all deserve to be loved because of what we are, not in spite of it.
The women of the Texas Rodeo series are all more than willing to hand me a hammer.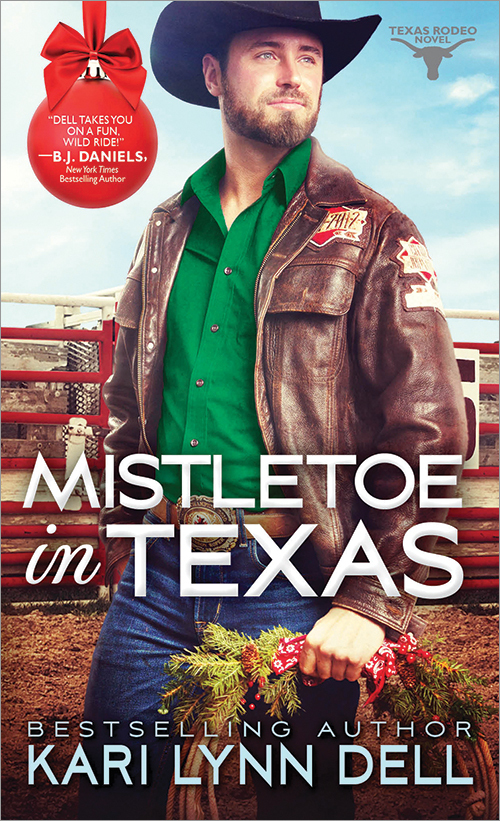 "Dell takes you on a fun, wild ride!" ―B.J. DANIELS, New York Times Bestselling Author
He's always been the black sheep: the troublemaker. But this Christmas, the prodigal cowboy returns.
Rodeo bullfighter Hank Brookman was headed straight for the top. But after a single misstep resulted in devastating injury, he disappeared under a mountain of regrets. Now he's back, ready to face the loved ones he left behind-starting with the one girl his heart could never forget.
When Hank stormed out of Texas, he left Grace McKenna picking up the pieces...and struggling with a secret that changed everything. He may be back looking for redemption, but after everything they've been through, how can she admit what he really walked away from all those years ago?
Hank always knew persuading Grace to trust him again would be a tall order. Convincing her they deserve a happily ever after? That may take a Texas-sized Christmas miracle.
Texas Rodeo Series: Reckless in Texas (Book 1) Tangled in Texas (Book 2) Tougher in Texas (Book 3) Fearless in Texas (Book 4) Mistletoe in Texas (Book 5)
What People Are Saying about the Texas Rodeo series: "Look out, world! There's a new cowboy in town." ―CAROLYN BROWN, New York Times Bestselling Author "An extraordinarily gifted writer."―KAREN TEMPLETON, author of Wed in the West series "Real Ranches. Real Rodeo. Real Romance."―LAURA DRAKE, author of Sweet on a Cowboy series "A sexy, engaging romance set in the captivating world of rodeo."―Kirkus "Illuminating...a standout in western romance."―Publishers Weekly
Romance Contemporary [Sourcebooks, On Sale: September 25, 2018, Mass Market Paperback, ISBN: 9781492658146 / ]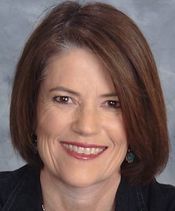 Kari Lynn Dell is a native of north central Montana, a third generation ranch- raised cowgirl, horse trainer and rodeo competitor, most recently the 2013 Canadian Senior Pro Rodeo Association Breakaway Roping Champion. She attended her first rodeo at two weeks old and has existed in a state of horse-induced poverty ever since. She currently resides on the family ranch on the Blackfeet Reservation, loitering in her parents' bunkhouse along with her husband, son and Max the Cowdog, with a tipi on the front step, a view of Glacier National Park from her writing desk and Canada within spitting distance.
Comments
31 comments posted.
Re: Kari Lynn Dell | Difficult Pasts Lead to a Happy Ever After: Ambitions, Dreams, and Overcoming Adversity

I need to complete my collection of this series!
(Janeen Phillips 2:15pm September 25)
Your book sounds great!!
(Jean Benedict 2:45pm September 25)
The book sounds great!
(Susan Clickner 3:20pm September 25)
Looks cool! Thanks for holding the contest!
(Jessica Nathan 9:20pm September 25)
Strong women can be intimidating. When they find the man who isn't intimidated,
understands and appreciates them, they are both in for a promising future.
(Patricia Barraclough 12:43pm September 26)
Love the cover!
(Lori Raines 12:31pm September 26)
I love books that have cowboys in them and this sounds so
good. I would love to read a print copy and review on a few
sites. Thank you for giving all of us a chance!
(Peggy Clayton 1:09pm September 26)
Looks like a good premise for a book. I've never been to a
rodeo and am interesting in reading more about that
setting. Thanks.
(Mary Songer 3:05pm September 26)
i just love your books
(Denise Schenk 3:06pm September 26)
Looking forward to reading this series.
(Janet Evans 3:10pm September 26)
Sounds like a great book. Loved the column.
(Nancy Reynolds 6:57pm September 26)
I like second chance books, especially when there is a cowboy involved. Thanks for giving us a chance to win a copy.
(Anna Speed 9:46pm September 26)
love the cover
(Emily Stemp 10:27pm September 26)
Flawed characters make stories more real because nobody's
perfect, there's always something a little off. It gives
the characters a chance to redeem themselves. Plus in
your story the second chance romance has a way of working
out, because the couple keep running into each other and
not on purpose, kindof like natural selection.
(Alyson Widen 6:28am September 27)
Great cover! Love the story, can't wait to read it!
(Tina Bartunek 12:57pm September 27)
I enjoy books with cowboys and Texas and people who are not perfect.
(Melinda Marks 11:04pm September 27)
this sounds like a book id really enjoy reading
(Vickie Couturier 6:30am September 28)
Love cowboy romances, keep them coming.
(Linda May 2:43pm September 28)
This sounds like the kind of book I love to read.
(Joy Isley 5:09pm September 28)
I new a barrel racer which is riding around barrel real
fast on a pony, so cowboy stories are endearing to me.
(Alyson Widen 1:19am September 29)
I love the title!
(Rina Horenian 4:23am September 30)
I think many of us make mistakes and we can identify with them. The book sounds amazing.
(Debra Guyette 7:43am September 30)
Think I need to read this series. I like cowboy stories
and altho I didn't get to meet the Rodeo champion himself
(deceased) -- Jim Shoulders, 16 world championships, I did
get to know his wife. Since then, rodeo stories have
become especially favorites to read.
(Donna Durnell 1:13pm September 30)
Enjoyed the post & yes we do all deserve to be loved.
(Jana B 1:45pm September 30)
I love this series!
(Kim Atchue-Cusella 4:22pm September 30)
Making note of this book...
(Colleen Conklin 6:09pm September 30)
I love the cover. Can't wait to read it
(Brenda Witt 7:37pm September 30)
You are right. Everyone does love an underdog. I liked my characters with
flaws because they are relatable. We all are full of different qualities and
characteristics which make us unique much like our fingerprints including
our ever present flaws. Thanks!
(Jessica Chappell 9:52pm September 30)
This looks like an interesting story.
(Sharon Mitchell 9:56pm September 30)
Thanks for finally caving and giving your characters flaws so the rest of us won't feel so low. Your books sound great and fun to read.
(Debra Wolsleben 10:21pm September 30)
I would love to read this book. Flawed characters are like people really are. Nobody has not made mistakes. We are only human.
(Cynthia Cook 11:38pm September 30)
Registered users may leave comments.
Log in or register now!