June Faver - Do or Die Cowboy
GIVEAWAY: win your own Real Cowboy (book, sorry, not real guy)

September 4, 2018
AVAILABLE
Dark Horse Cowboys #1

September 2018
On Sale: September 4, 2018
352 pages
ISBN: 1492667668
EAN: 9781492667667
Kindle: B07DD1GSPB
Mass Market Paperback / e-Book
Add to Wish List

Also by June Faver:
When to Call a Cowboy, May 2019
Hot Target Cowboy, January 2019
Do or Die Cowboy, September 2018

Texas is a big state, and a great many of our male citizens wear cowboy boots and a Stetson or other brand cowboy hat. That doesn't mean that man is a cowboy.
Texas also hosts some huge and amazing rodeos, so especially during rodeo season, everyone togs up in western wear, as though they know which end of a horse is which.
So, when I say REAL COWBOY, I'm talking about the men who actually work on a ranch, ride horses, shovel out stalls, plant crops, raise cattle and have a whole different way of looking at life than the city fellows. A real cowboy is generally down to earth, would do anything to help a neighbor, and they have a certain inner confidence that comes across. Gotta love a Real Cowboy.
Real cowboys know how to treat a woman. If you have ever loved and been loved by a real cowboy, you wouldn't have to ask.
Real cowboys do not wear baggy, saggy pants, and they do know how to fill out their Wranglers
When a Real Cowboy walks into a room all the women know there's a man in the room...and so do the other men. They have an air of confidence that transcends everything else. They may be hotties or plain, rugged fellows, but there is no doubt that they are real men.
Real cowboys aren't afraid to get dirty, but they clean up real nice.
Real cowboys don't line dance. They know how to two-step and would rather hold you close.
Putting it all on the line for love…
Cowboy musician Tyler Garrett has a once-in-a-lifetime chance to put aside his rough-and- tumble rancher's lifestyle and realize his dream. He's on the road to Dallas to record a demo when that dream gets kicked sideways by a beautiful woman on the run.
Leah Benson will do whatever it takes to keep her daughter safe. But when her dangerous past catches up with her, she needs a hero—and luckily for her, Tyler Garrett was born and bred for the role.
Romance Western [Sourcebooks Casablanca, On Sale: September 4, 2018, Mass Market Paperback / e-Book, ISBN: 9781492667667 / eISBN: 9781492667674]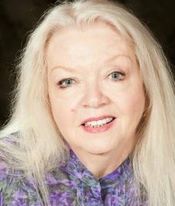 JUNE FAVER loves Texas, from the coast to the panhandle. Her novels embrace the heart and soul of the state and the larger-than-life Texans who romp across her pages. A former teacher and healthcare professional, she lives and writes in the Texas Hill Country.
Comments
7 comments posted.
Re: June Faver - Do or Die Cowboy

Forgot about the boots. Real cowboys have scuffs on their books and
maybe a 'good' pair for dress.
(Laura Gullickson 1:16am September 2)
I'm very curious to find out what's going to happen with this cowboy!
(Cristina Estrada 2:12am September 2)
I'm curious, also, and want to know what has frightened Leah.
(Anna Speed 3:12am September 2)
Fun post. I hope your book sells lots of copies!
(Mary Songer 4:46am September 2)
Awesome post! I picked up my copy, I can't wait to read it.
(Maria Dalmau 5:13am September 2)
you forgot every things bigger in Texas!!! I hate the baggy pants. Cowboys all the way!!!
(Jennifer Beck 6:45pm September 2)
I love a good cowboy story, and this definitely sounds like
one. Just added it to my TBR list.
(Tina Rucci 5:10pm September 5)
Registered users may leave comments.
Log in or register now!