Gayle Leeson | Eccentricities
Got your own eccentric? Tell us to win!

December 5, 2017
Eccentricities. We all have them. And as long as we aren't too eccentric, we and the people around us think we're "normal" or "okay." If you've read my books, then you know that I love writing eccentric characters. The Down South Café series has an abundance of them.
Aunt Bess is an octogenarian who has discovered the Internet. She has Pinterest boards such as People I've Outlived and Lord, Have Mercy. Aunt Bess has also been known to use dating sites during their free trial periods. Still mentally sharp as a whip, Aunt Bess has an opinion on everything.
Dilly Boyd, an older woman who comes to the Down South Café for breakfast every morning, feeds a raccoon a biscuit every evening. I have to admit that I didn't come up with that scenario on my own. A few years ago, my family stopped at a house near my mother-in-law's home to see some puppies. As we talked with the dogs' owner, she mentioned that a raccoon came out of the woods and down to her back porch every evening at dusk.
She said, "I give him a biscuit, and he goes on his way."
"You have to give him a biscuit every day?" I asked.
"Yes," she answered. "Now, if I didn't make biscuits that day, he'll take a cookie…but he doesn't like it."
I thought that was so cute. And I knew then that this woman and "her" raccoon would appear in one of my books someday.
The most eccentric character in the Down South Café series is Homer. Homer is a man in his sixties who has a photographic memory and chooses a new hero for himself every day. Amy has always cared about Homer and has catered to his rigid sense of structure, but as the series has progressed, Homer has started to become more of an integral character.
I enjoy developing eccentric characters into so much more than a stereotype. These people have pasts that have shaped them, and the things they're experiencing now will shape their futures. So what if they feed raccoons, memorize quotes, or write down what imaginary characters tell them to say?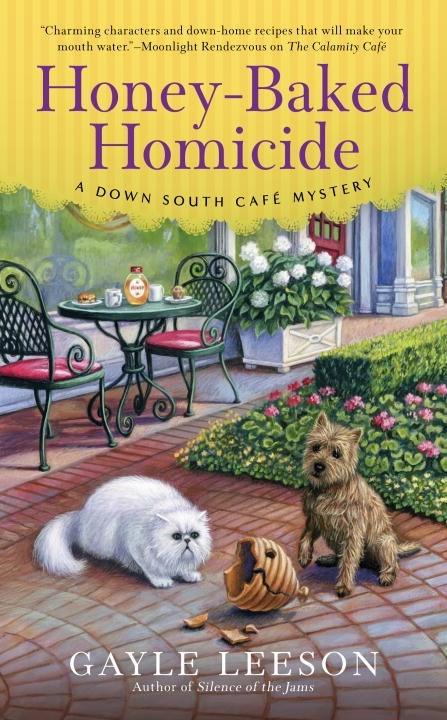 The owner of a delightful Southern café tastes the sharp sting of suspicion in this delectable comfort food mystery . . .
It's fall in Winter Garden, Virginia, and business at Amy Flowers' Down South Café has never been better. So when struggling beekeeper Stuart Landon asks Amy to sell some of his honey, she's happy to help. The jars of honey are a sweet success, but their partnership is cut short when Amy discovers Landon's body outside the café early one morning.
As Amy tries to figure out who could possibly have wanted to harm the unassuming beekeeper, she discovers an ever- expanding list of suspects—and they're all buzzing mad. She'll have to use all of her skills—and her Southern charm—to find her way out of this sticky situation...
Mystery Cozy [Berkley Prime Crime, On Sale: December 5, 2017, Mass Market Paperback / e-Book, ISBN: 9781101990827 / eISBN: 9781101990834]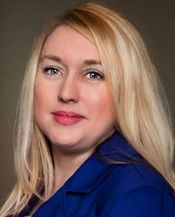 Gayle Leeson is a pseudonym for Gayle Trent. I also write as Amanda Lee. As Gayle Trent, I write the Daphne Martin Cake Mystery series and the Myrtle Crumb Mystery series. As Amanda Lee, I write the Embroidery Mystery series.
I live in Virginia with my family, which includes her own "Angus" who is not an Irish wolfhound but a Great Pyrenees who provides plenty of inspiration for the character of Mr. O'Ruff.
Win a copy of HONEY-BAKED HOMICIDE! Just tell us your favorite eccentric relative, friend or "stranger"
Comments
17 comments posted.
Re: Gayle Leeson | Eccentricities

My favorite eccentric relative was an aunt who passed
many years ago. She would call every Saturday at the same
time, telling me stories from years gone by. She did want
people to visit her or send her things, she only wanted
to talk on the phone. She didn't talk to many people
either, but every Saturday, I could count on a call from
her.
(Suzanne Blasi 4:40pm December 5, 2017)
I love it, Suzanne! :)
(Gayle Trent 5:02pm December 5, 2017)
my aunt would be friendly to me when no one else was around but if other family/friends were there she would ignore me not sure why and she never said
(Jeri Dickinson 5:03pm December 5, 2017)
My favorite eccentric relative, friend or "stranger"? Hmm, I'm afraid that would
be myself. And aren't we all strangers to ourselves?
(John Smith 10:00pm December 5, 2017)
A friend who was true and real but did have strange ways which
I would accept since she was warm and kind.
(Sharon Berger 12:48pm December 6, 2017)
Jeri, John, and Sharon, great anecdotes! :)
(Gayle Trent 1:00pm December 7, 2017)
Actually it's probably myself!! I am 50 and still dance
while I clean, sing in the car, and have purple in my hair!
(Tracy Shafer 4:30pm December 7, 2017)
My favorite is a gentleman at the golf course that plays
every day---even when it's only 40 degrees.
(Sue Farrell 4:55pm December 7, 2017)
Reading you, I realized that if we were neighbors, you would
see that I (at 70), am 1/2 aunt Bess, and 1/2 dilly Boyd.
Not kidding!
(Sue Hieber 1:10pm December 8, 2017)
I don't know any, but I have an idea my friends consider me to be eccentric.
(Anna Speed 6:57pm December 10, 2017)
My favorite eccentric person is my best friend Annie. She
is one of a kind beyond brillant, can speak multiple
dialects in Russian and can talk nanophysic science stuff
with my oldest son. She is a stay at home mom and wife.
We calm each other's crazy and our husbands normally have
to babysit when we get together. The sad thing is we live
in different states so we only see each other every year
or so for a week. Merry Christmas and Thanks for the
chance.
(Jeannie Platt 10:32am December 12, 2017)
My favorite eccentric person is myself! HaHa! Merry Christmas!
(Jamie Stein 12:47pm December 12, 2017)
I have an Aunt who passed away recently. She had a very
small kitchen that had 6 different wallpapers on her
walls, and a smaller Black Forest cuckoo clock on the
wall over her kitchen table, which I always thought was
fitting. She was always very sweet, but could never
figure out the wallpaper part!! It's funny that you
mentioned the story about the woman feeding her raccoon.
My husband took a liking to the raccoons where we live,
and he tries to feed them marshmallows, when he has them
on hand. Otherwise, it's bread or toast that he makes
for them with peanut butter on it, cookies, and leftover
pizza crust. As you can tell, they're a bit spoiled, and
make it a point to bring their babies here, too, as soon
as they're old enough to climb onto the deck to get food.
There's also leftover food from the 2 semi-feral cats we
feed that were dumped on the property. Sometimes they go
after the suet feeders we have out for the woodpeckers,
too!! It's always a feast in our backyard!! Looking
forward to reading your latest book!! Congratulations!!
(Peggy Roberson 6:56am December 13)
My mother was legendary. She had an iron will and a
memory that never quit. She could light up a room by her
very presence! When I would bring boy friends around, by
the time we left, she would have drawn out every last bit
of information from him, including his mother's maiden
name. Coolest present she ever gave was to one of my
cousins. His parents had said no, but mom searched until
she found him a unicycle to practice on! He became quite
good with it!
(Marcia Berbeza 7:29pm December 13)
Since I like to do things my way (house has Christmas things up year round and a Christmas room), I would say I am the eccentric one. I also wear my pin that says "Santa always liked me best".
(Linda Pillow 8:53pm December 13)
One of our cousins is VERY eccentric - listens to music LOUD LOUD LOUD among other things - yet on the other hand most folks would probably consider ME eccentric since I am just so strange and dumb! LOL
(Felicia Ciaudelli 8:36pm December 14)
It would have to be my aunt, Florence. She played piano beautifully and I did not
know that until I was in my twenties. She never had children of her own and
could remember songs without sheet music.
(Diane McMahon 5:11pm December 16)
Registered users may leave comments.
Log in or register now!