After you've engaged in a shopping frenzy at the Sherlock Holmes Bookshop and Emporium, located at 222 Baker Street, West London, Massachusetts, be sure and pop next door for afternoon tea at Mrs. Hudson's.
Head baker Jayne Wilson does a marvellous job of crating the perfect, fully-traditional afternoon tea. You might even be lucky enough to get one of the special Sherlock tea pots and matching cups.
Occasionally, for a special occasion, Jayne is forced to reply on her business partner Gemma Doyle for help in the kitchen. And, occasionally, Gemma gets to enjoy the fruits of their labours.
Fiona placed a large teapot on the table as well as a small jug of milk, a sugar bowl, a plate of sliced lemon, and two cups and saucers. She dropped a mug of coffee in front of Kevin.
"What a beautiful tea set," Linda said. The pot and cups matched: roses of pink and pale blue on fine white china trimmed with gold. "May I pour?"
"Go ahead." I leaned back to allow Fiona to place the three-tiered silver tray in the center of the table along with pots of butter, strawberry jam straight from the kitchen of a West London woman, and proper clotted cream.
Ignoring any pretext of good manners, I snatched one of the cucumber sandwiches before my dining companions could get it. We'd also been served salmon, roast beef and arugula, and cream cheese with chives. The middle level of the tray held scones plump with raisins and on the top layer tiny perfect strawberry and lemon tarts nestled beside miniature coconut cupcakes piled high with buttercream icing.
"I try to have at least one scene involving afternoon tea in each of my books," the author said. "It gives Desdemona and Sherlock a chance to get together and talk over what they've learned."
I refrained from mentioning that I couldn't imagine Sherlock Holmes, man of action, pipe tobacco and lover of a seven percent solution, enjoying a cream tea.
Body on Baker Street, by Vicki Delany
Mrs. Hudson's Coconut Cupcakes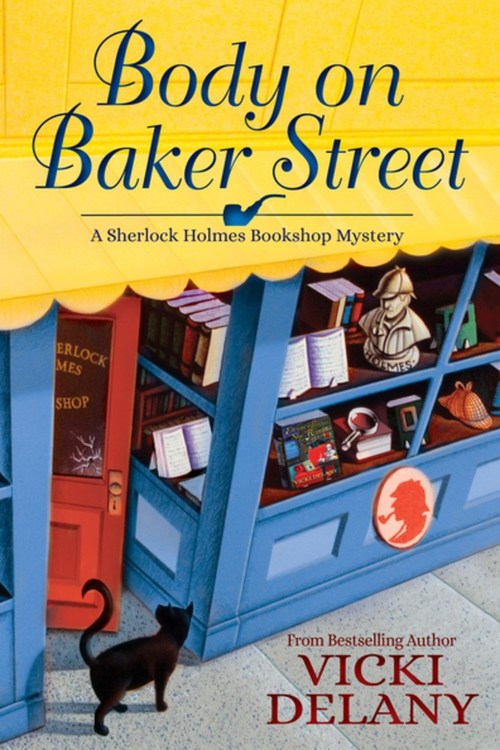 Gemma Doyle and Jayne Wilson are busy managing the Sherlock Holmes Bookshop and Emporium on Baker Street and adjoining Mrs. Hudson's Tea Room in anticipation of the store's upcoming book signing with the illustrious Renalta Van Markoff, author of the controversial Hudson and Holmes mystery series. But during the author Q&A session, dedicated Sherlockian Donald Morris verbally attacks Renalta and her series for disgracing Sherlock's legacy, only to be publicly humiliated when the author triumphantly lashes back and gains the upper hand. That is until Renalta collapses on the table—dead.
Donald insists he didn't do it and pleads to his friends to clear his name. Fortunately, Gemma and Jayne have no shortage of suspects between author's bullied personal assistant, her frustrated publicist, the hapless publisher, a handsome rare book dealer, an obsessively rabid fan, and a world of other Sherlock enthusiasts with strong objections to Renalta's depiction of the Great Detective. It's up to the shrewd sleuthing duo to eliminate the impossible and deduce the truth before the West London police arrest an innocent man in Body on Baker Street, the second Sherlock Homes Bookshop mystery perfect for fans of Miranda James and Kate Carlisle.
Mystery Cozy [Crooked Lane Books, On Sale: September 12, 2017, Hardcover / e-Book, ISBN: 9781683312994 / eISBN: 9781683313007]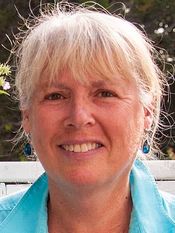 Vicki Delany is one of Canada's most prolific and varied crime writers, author of more than twenty-five crime novels, including standalone Gothic thrillers, the Constable Molly Smith series, and the Year Round Christmas Mysteries. Under the pen name Eva Gates she writes the Lighthouse Library cozy series from Penguin.
Her latest is Body on Baker Street, the second in the Sherlock Holmes Bookshop series from Crooked Lane (Sept 12, 2017).
Visit Vicki at www.vickidelany.com. Facebook: Vicki Delany & Eva Gates (evagatesauthor) and twitter: @vickidelany and @evagatesauthor
No comments posted.