Thinking of Travel?
Giveaway: Win $10 Amazon Gift Card plus book

July 10, 2017
Annie Seaton takes you to exotic places! Enter her contest (ends on July 15th) and just tell her your answer to
If you went to Australia for a visit, what would you want to see most of all?
Type your answer below or on the contest form to be entered.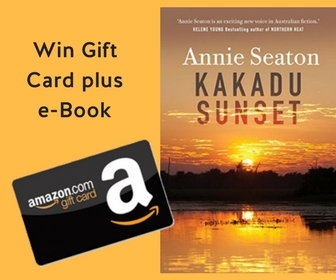 Comments
10 comments posted.
Oh boy, not sure where I would start... I would just enjoy seeing the beauty of all that was around...
(Colleen Conklin 1:21pm July 10)
I'm not sure there is just one thing. I think, from the pictures I've seen, that
it is a beautiful place. It has always been my "if you can go anywhere on
vacation, where would you go" place.
(Lynn Opuda 1:59pm July 10)
I've never been to Australia but it sounds like an amazing
place to visit!
(Anna Cox 2:58pm July 10)
Australia has always been on my bucket list. I would love to visit the Outback, then head to one of the many beaches I hear about... but most of all I just want to hear the people talk. Love accents and Aussie's have one of the best.
(Annetta Sweetko 4:54pm July 10)
A kangaroo! :-)
(Cheryl Castings 9:42am July 11)
Ayers Rock (I know it goes by a Maori name now, but I don't
know it) and the bush in general. I have been to Sydney,
Cairns and Tasmania.
(Anne Muller 1:31pm July 11)
Hmmm, travel across Australia from one ocean to the other!
(Kathleen Bylsma 5:27pm July 11)
Dawn and dusk at Ayer's Rock.
(G. Bisbjerg 11:54pm July 11)
I would like to see Ayer's Rock. I have been to Australia two times and loved the country.
(Leona Olson 10:32am July 12)
Kangaroos
(Barbara Bradley 11:26pm July 12)
Registered users may leave comments.
Log in or register now!