As an author and a reader, one of my favorite fiction tropes is Fish Out Of Water. I've used it several times in my current series, Red Hot Russians. The series debut, PAIRING OFF, sends a sun-loving Southern belle pairs figure skater to Moscow, where she partners with a driven Russian pairs champion to compete in the Winter Olympics. In TURNING IT ON, a shy, bookish heroine becomes a contestant on a cut-throat reality show, and not only survives but thrives, with the help of a former ice dancer turned sexy male stripper.
In my latest release HEATING IT UP: A Red Hot Russians Novella, San Francisco architect Nora Bradford discovers a new life in Amity Bay, Antarctica, and new love in the arms of Amity Bay's handsome station manager, Alexei Zaikov.
Living and working in Antarctica, Alexei has found his dream career, but life on "the Ice" makes it difficult, if not impossible, to meet the right woman. Professional ethics prevent him from getting romantically involved with a woman on his staff. The women he meets "above" don't want to move to Antarctica.
When a team of architects arrives from San Francisco, he's taken with the lovely and mysterious Nora. After the firm leaves and Nora stays behind, Alexei hopes it will be his chance to keep her warm during the cold, dark Antarctic winter, though he senses she's keeping a secret.
Last month, I shared the top five reasons Alexei is Nora's perfect man. Read on to find out why she's the woman he's been waiting for.
She's smart and sophisticated
The daughter of an Air Force colonel, Nora has lived all over the world and her adventurous spirit makes her open to new experiences. She's well-educated, appreciates good food and wine, loves to read, and is inherently curious.
She stands up for the underdog
After Nora stops her arrogant boss from berating an Amity Bay employee, Alexei admires her kindness and and courage. Her graciousness and professionalism make her easy to get along with, which is important in a place where survival means working together.
She's passionate
When Nora meets the town residents, including the scientists who have discovered a rare species of whale living in the bay, she commits to helping save the station, even if means a great personal sacrifice.
She's accomplished
Not only does Nora work for one of the world's top sustainable architecture firms, she's a talented artist, and an excellent cook. When Alexei and Nora are snowed in together, she entices him with fresh vegetables, homemade bread and good wine—rare treats for a man used to bar food and cafeteria fare.
She's beautiful and brave
Dark haired, green-eyed Nora is lovely to look at. But life in Antarctica isn't for sissies, and her unflinching determination and courage convince Alexei she's the perfect woman to share the life he loves.
Writing a romance novel set in Antarctica was a lot of fun. I loved telling Nora and Alexei's story and bringing the community of Amity Bay to life. The Red Hot Russians books are stand-alone stories, so whether you're a fan of the series, or in the mood for a cozy, small town romance set in a surprising place, I hope you'll give Heating It Up a try.
Cold weather, but warm hearts. What could be better than that?
Enter my giveaway to win your choice of a digital copy from the The Red Hot Russians series backlist, and enjoy this exclusive excerpt from HEATING IT UP: A Red Hot Russians Novella.


Together, they raced upstairs, bumping shoulders in the process. Side by side, they looked out the kitchen window. Beyond the building was nothing but white.

Nora had seen the fury of polar winds as a child, when her family had briefly lived in Greenland. Antarctica's 100 mile-per-hour gusts made those look like pleasant summer breezes. Glacier Ridge had been designed to withstand hurricane force wind, but crunching computer data was one thing; experiencing it live was another. Her first taste of Antarctic winter was sobering.

Alexei stood behind her, hands resting on the window sill, his chin brushed against the top of her head. "Velikolepnyy vid," he said, his voice quiet with awe.

"Yes, that." She didn't understand Russian, but got the gist of it.

For a moment, they remained still, sharing space and heat until a crackle of radio static broke the spell. He pushed away from the window and shut the thing off. "I can't leave with it like this, and even after wind drops to Condition Two, is not safe without blizz lines. Had I known you were here, I would've ordered them installed immediately."

Chastened, she looked away. "It wasn't my intent to put anyone in danger."

"And what was your intent again? Oh that's right, to make history."

He was clearly annoyed, and even his belief that she was nothing more than an overly adventurous ex-secretary offered no guarantee he wouldn't report her to IFAR. For the next few hours she would be walking on eggshells, watching every word.

On the other hand, having him stuck here bought her time to convince him to keep her presence a secret. Judging from his blissful enjoyment of baby spinach, she had an excellent idea how. One way to Alexei Zaikov's heart seemed to be through his stomach, and Nora was an accomplished cook. Her food supply wasn't unlimited, but he was worth the investment.

She offered her most inviting smile. "Since you can't leave for now, I'd love it if you would join me for dinner."

Resigned, he shrugged. "Why not? It's not like I have any options."

She showed him to the coat room where he shed his gear. The howling wind was as fierce as ever, and there was a very real possibility this ruggedly handsome guy would be stranded here for the night.

She touched her makeup-free face and smoothed the front of the baggy hoodie she'd been wearing three days. Back home, she dressed better than this to go to the gym. Dashing upstairs to change or dab on some mascara would be too obvious. She tugged her ponytail loose and finger-combed her lank, staticky hair. Not great, but it would have to do.

Eager for distraction, she hustled into the kitchen. The rising bread dough was ready to knead and she turned it onto a floured board. Alexei came in and stared, devouring it, or maybe her, with his eyes. "You make your own bread?"

"We make almost everything from scratch, so there's less to transport or recycle."

"Velikolepno," he murmured.

Same word, slightly different. Whatever it meant, she liked hearing it.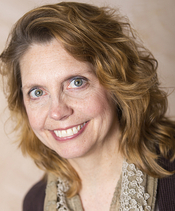 Quirky settings. Loveable, if imperfect heroines. Gorgeous men with hearts of gold. Contemporary romance author Elizabeth Harmon loves them all.
A graduate of the University of Illinois, she has worked in advertising, community journalism and as a freelance magazine writer. She feels incredibly blessed to have a career that allows her to spend her days imagining "what if?" and a loving family that keeps her grounded in the real world.
An adventurous cook, vintage home enthusiast, occasional actress, and entry-level figure skater, Elizabeth makes her home in the Midwest, where life is good, but the sports teams aren't. She loves to hang out on her front porch, or at her favorite local establishments, enjoy good food and wine, and talk writing with anyone who will listen.
1 comment posted.
I am not one for the cold weather and the Antarctica is not on my bucket list but the book sounds really good. Great way to warm up.
(Annetta Sweetko 8:31pm March 14)