Miranda Owen: After reading SOMEONE TO LOVE, I was completely charmed by Alexander and his sister Elizabeth, and was hoping to read their stories next. Even though I wasn't looking forward to a book about Camille Westcott as much as the others, after reading SOMEONE TO HOLD, I can say that Camille is one of my favorite heroines and this is now one of the most enjoyable books of yours that I've read. Camille is such a strong heroine. Did you always intend to go in that direction with her from the start of the series? What makes a heroine interesting and inspires you as an author? Who are some of your favorite heroines – both ones you've created & ones you've read about?
Mary Balogh: I like your reaction to Camille. I often create characters in one book who are unlikable for one reason or another and then make them heroes/heroines in another book. Surely we have all sometimes disliked a person quite heartily on early acquaintance only to change our minds after getting to know that person. Someone, like Camille, who comes across quite badly in one book, can seem quite different once we know her from the inside. Yes, Camille is not a warm character in SOMEONE TO LOVE. I intended from the start, of course, to give her a book of her own and was confident that once I got inside her head I could understand why she was the way she was and give her realistic reasons for changing or at least redirecting her life in a more likable direction. I love the challenge of creating (or re-creating) such characters. I like to think of my characters as being as multi-dimensional as real persons. It always amuses me to hear from readers who won't read SLIGHTLY SCANDALOUS because Freyja Bedwyn, the heroine, treated Lauren so badly in A SUMMER TO REMEMBER. And then I hear from readers who won't read A SUMMER TO REMEMBER because Lauren was so horrid to Freyja in SLIGHTLY SCANDALOUS. I have a private little chuckle because this is how we so often react to real life situations. We take sides and don't even want to look at the other side. Some of my favorite heroines from other books are Jane Eyre and Elizabeth Bennet, because of their enormous strength of character and unwillingness to compromise their principles just because it would be to their advantage socially, economically, and emotionally to do so. That is not easy to do! Oh, and by the way, you will have Alexander's story in November (SOMEONE TO WED) and Elizabeth's somewhere down the line. Viola's story (not yet written) will be next.
Miranda Owen: The first book of yours I've read was AT LAST COMES LOVE, and I've been a fan ever since. As I backtracked and read some of your older books, I've noticed that something you touch on in just about every book – including SOMEONE TO HOLD – is that happiness can be incredibly complex or equally incredibly simple and is unique to an individual. Do you have a specific "philosophy of happiness" that you try to inject in your books?
Mary Balogh: That's an interesting question. I don't believe that happiness is some objective thing just waiting to be found and grasped and held onto. I certainly don't believe in happily-ever-after. But I do most definitely believe in happiness. It comes from the inside and therefore is indeed very personal to each individual. It is something to be sought out and recognized for what it is. It is something to be worked for and cultivated. It can never be grasped or pinned down or expected to fill a person with a lasting euphoria. Euphoria or extreme joy can be part of it—and that will certainly appear in the course of a romantic novel—but it must be recognized as a sort of mountaintop experience. One cannot live one's life on that mountain peak. But happiness must never be equated with euphoria. Conscious joy is only a small part of it. I would say happiness comes of a firm adherence to principle and belief (not necessarily religious) and a seeking out of places and people and circumstances that will enhance it. In a romantic novel, and often in real life too, happiness can be found with another individual and be all rolled up in a romantic, sexual attachment. But even being in love must not be equated with happiness. It's only part of it. Happiness and love must be worked for every day of that couple's lives. I do try to give a sense of that at the end of my books. I want readers to believe that these two people have a strong expectation of being happy with each other for the rest of their lives. But I try to avoid the happily-ever-after concept.
Miranda Owen: The last romances I remember reading about a reversal of fortune were Julia Quinn's companion books in her Two Dukes of Wyndham series. The Julia Quinn books involved two heroes, while the first two books of your Westcott series involve a change in fortune and station for two women. While I enjoyed SOMEONE TO LOVE, I'm fascinated by stories in which somebody who had a lot is forced to start over in life when almost everything is taken away, and so I really enjoyed SOMEONE TO HOLD. What appeals to you, as a writer, when it comes to these types of stories?
Mary Balogh: The heroine (and hero) of any book has to be challenged with something unfamiliar or the story is going to lack the essential conflict. The Cinderella story is familiar, and to a certain extent that is Anna's story in SOMEONE TO LOVE. I did try to show in that book, though, that the change in her fortune for the better was not an entirely good thing. It was a huge challenge for her to be suddenly rich and suddenly part of a largish family. She was not entirely happy with the change. Camille's unhappiness with her fate is, of course, far more understandable. Not only does she lose her legitimacy and position in society and her fiancé; she also loses all sense of self. Everything upon which she has based her character and identity is taken from her, and she ends up with really no idea of who she is. She reaches the turning point in her life in the very first pages of SOMEONE TO HOLD when, tired of cowering in her grandmother's house feeling sorry for herself, she strides out of the house alone (something she has never done before) to take charge of her life. I liked her at that moment and had to give her a believable transformation and a happy future. It wasn't easy. But I wouldn't enjoy writing an easy story. The more difficult a situation, the better I like it as a writer.
Miranda Owen: Children play a big part in SOMEONE TO HOLD. Is it challenging writing children?
Mary Balogh: It is. The danger is always of being over-sentimental about children. I always cringe from child characters who are too cutesy. Incidentally, I cringe in just the same way at many television ads that use children lisping their way into viewers' hearts—so that the viewer will then buy the product. I try to remember what it feels like to be a child. I am quite elderly, so this is easier than it used to be! I remember from my own childhood how much internal stuff went on that my parents and teachers and others knew nothing about—dreams, imaginings, fears, insecurities, unwillingness (caused by fear) to report abuse, for example. In this book I tried to imagine what it would have felt like to grow up in an orphanage, even a good one, as this was. Or just what it felt like to be growing up, period. One of my favorite characters is Winifred, who is mildly obnoxious in both SOMEONE TO LOVE and SOMEONE TO HOLD. Until I was well over halfway through the second book, I didn't intend to do anything else with her character. And then Camille recognized in the child much of herself (and I recognized it as the same time), and that changed things. I love when that happens—those eureka moments late in the writing of a book.
Miranda Owen: I also love the way you explore the issues facing women at the time in SOMEONE TO HOLD, as you chronicle Camille's journey to independence. This book had everything I normally love about one of your books, but it felt a little different because the hero and heroine are both working people – even though working for a living is something new for Camille. What do you like about writing about these types of characters versus characters moving in loftier circles?
Mary Balogh: I felt a bit out of my comfort zone writing Camille and Joel's story, though it must be noted that both end up well off after all. I am used to writing about wealthy, mainly aristocratic people, and I think that is what readers like about Regency-era romances. I enjoy a new challenge, though, and I wanted to show in the course of the book that both characters had the inner drive needed to carve out a satisfactory life for themselves. I hope readers will see that their romance and their lives would have worked even if neither one had come into money and property at the end. And they do actually end up giving back rather than hoarding their new-found fortune to themselves.
Miranda Owen: In SOMEONE TO HOLD, the Westcotts are a family slowly trying to figure out how to grow together. You've written so many amazing stories centered around close families – and I include the Survivors in that because they are as close as any family could hope to be – that I want to know what draws you to writing about these complex, quirky, and fiercely loyal families.
Mary Balogh: People do not live in a vacuum. They need others. Family can be both problematic and a wonderful prop and stay to its individual members. And in any realistic family or family substitute (like the Survivors' Club), they will be both at various times. I enjoy—of course—bringing two people together in a love relationship during the course of a book, but I like also to bring the family group to a better place too. I know that with a number of my books, especially the earlier ones, I would be well into the writing of it before I realized that it was what I called thin on the ground. That is, the focus was almost exclusively upon the hero and heroine without any really significant cast of supporting characters who had a real impact on the outcome. A family series is the ideal vehicle for the kind of story I write. It gives richness to the development of the individual story but also enables me to arouse interest in other members of the family without distracting too much from that particular book. Then I can write stories for those other family members. I love doing that.
Come back next Wednesday for part two of our interview with Mary Balogh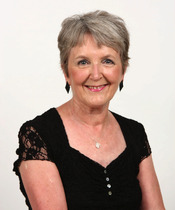 Mary Balogh grew up in Wales. Before she was ten, she was writing long, long stories about children having spectacular adventures and always emerging victorious. For one of her stories she won a large box filled with Cadbury's chocolate bars, a far more gratifying prize than any trophy to a ten-year-old, especially in post-World War II Britain.
Many years passed before she became a published author. All those pesky things like school and university and a teaching career and marriage and motherhood to three children got in the way of what seemed like a mere dream. Oh, and the move to Canada, which was supposed to be for two years but turned out to be permanent. But it happened eventually--the publication of that first book, A MASKED DECEPTION, a Regency romance, in 1985, and a two-book contract.
Twenty-seven years and five grandchildren and one great-grandchild later, Mary has almost one hundred published novels and novellas to her credit, all of them historical romances, most of them set in the Regency era in England. She has won numerous awards and, to date, has had nineteen books on the New York Times bestselling list. She lives in Saskatchewan, Canada, with her husband of forty-three years. They divide their time between the rural town of Kipling (summers) and the capital city of Regina (winters).
No comments posted.