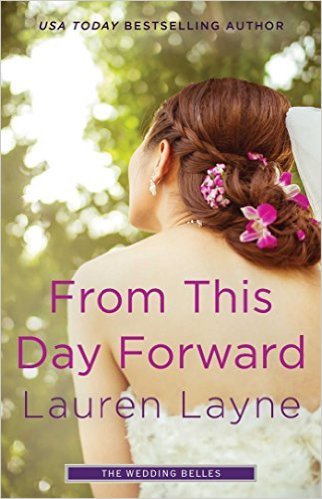 From This Day Forward
Lauren Layne
AVAILABLE
Wedding Belles #.5

June 2016
On Sale: June 6, 2016
Featuring: Jason Rhodes; Leah McHale
ISBN: 1501135198
EAN: 9781501135194
Kindle: B017RNBS76
e-Book
Add to Wish List

Also by Lauren Layne:
Hot Asset, June 2018
An Ex for Christmas, November 2017
Walk of Shame, April 2017
Someone Like You, December 2016

A hot trend is billionaire romances but who actually does all the work for a high profile wedding? An elite business of course. And author Lauren Layne has a new series coming up that pulls back the curtain to look at the love lives of the women (and men) behind the scenes in the wedding business. Meet the "Wedding Belles."
Our reviewer, Sharon Salituro, introduces us to the prequel for the new series. FROM THIS DAY FORWARD has a pair of photographers walking around the question of second chances.
Leah McHale was a wedding photographer and loved her job. One of her good friends is Alexis, a wedding planner, whose company is called Wedding Belles, and so the connection to the series, "Wedding Belles." Alexis is about to do one of her biggest weddings, planning the wedding of the former president's daughter, and needs Leah to photograph it. However, Leah will not be the only photographer there since it's such a big and important event. Enter Jason Rhodes. Leah and Jason was once an item, however, it ended badly. As much as Leah wants to do this, she doesn't know if she can work with him. Jason had tried to make things right with Leah in the past, but she would have no part of it. Maybe this wedding will do the trick.

FROM THIS DAY FORWARD is a delightful book. Now I can't wait for the other ones in this series by Lauren Layne. Right now I am planning my niece's wedding. So I really got into this story line. Lauren Layne hit it right on the nose on what goes on behind the scenes.

I found myself writing done some of the things that could go wrong at a wedding. Hopefully I wouldn't come across any of this. Lauren Layne writes the story with making everything come together. It turns out to beautiful wedding. Along with this Lauren does show the back side of a relationship. Sometimes things are not what they seem. Can Jason and Leah see wedding bells in their future? We can only hope and wait for the next book in the "Wedding Belles" series. FROM THIS DAY FORWARD was a great kick-off to the series.
FROM THIS DAY FORWARD review by Sharon Salituro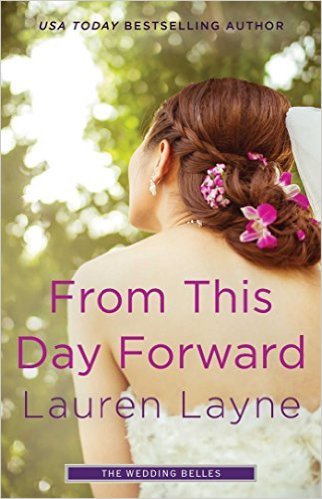 Sex and the City meets The Wedding Planner in this prequel to USA TODAY bestselling author Lauren Layne's The Wedding Belles series about three high-powered New York City women who can plan any wedding—but their own.
Up-and-coming wedding photographer Leah McHale's career is on the rise–thanks in no small part to the Wedding Belles, the elite New York wedding planning agency that always throws top-tier business Leah's way. So when one of the Belles asks Leah to fill in at the former First Daughter's wedding, Leah is overjoyed to say yes–until she finds out who she'll be working with.
Jason Rhodes is the one man who was able to capture Leah's heart and, once he had it, promptly stepped all over it and left her broken. Now he's working side-by-side with her at the biggest wedding of the season and Leah is determined to give him the cold shoulder. Despite his persistence, she is not going to fall for his charming, impish ways again. Not even if he still has that killer, irresistible smile...
Romance Contemporary [Pocket Star, On Sale: June 6, 2016, e-Book, ISBN: 9781501135194 / eISBN: 9781501135194]

Wedding Professionals Find Love

Wedding Belles
2 comments posted.